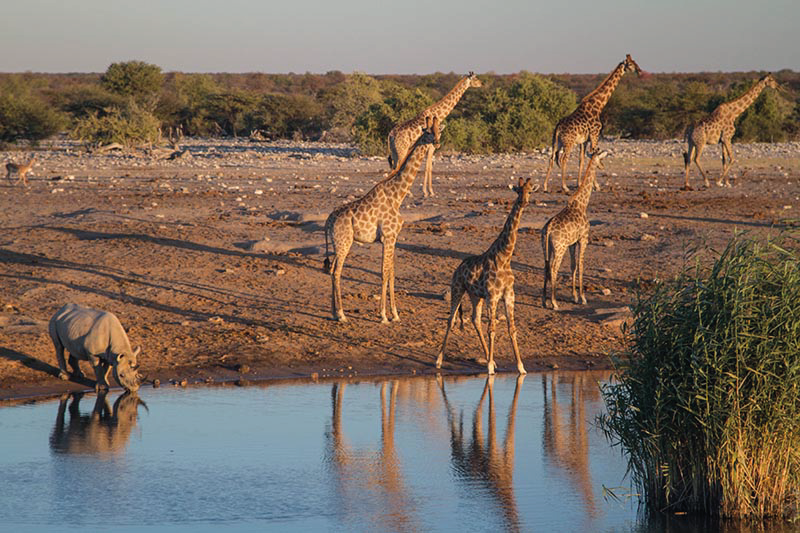 Impact of Covid-19 on SMEs and the best CRM Software in South Africa to support business recovery
In recent years, there's been a growing recognition of the importance of small and medium-sized enterprises (SMEs) in South Africa. Categorised as businesses with a turnover of more than R15m and less than R500m, SMEs represent some 98% of businesses in South Africa and employs up to 60 percent of the country's workforce.
Despite the resourcefulness of business owners, the fragility of SMEs can be exposed in times of crisis. Generally, with lower cash reserves and a small customer base with problems of their own, SME's have felt the full impact of the Covid-19 pandemic. In South Africa SMEs in the tourism, hospitality, retail and services sectors have been particularly hard hit, but there is optimism as businesses acknowledge their own resilience and seize the new opportunities faced.
Where SMEs win over larger organisations is their ability to thrive on lower profit margins and their agility to quickly respond to the changing market. Often family run from their own premises, the overheads are lower and resilience is high. And despite the hardship and destruction that Covid-19 has wrought, we can already see a strong bounce back as business recovers.
CRM for Covid Recovery
Key to the post Covid-19 recovery for the South Africa SME market is the need for business efficiency and the adoption of cloud technology. Never has it been more important to work smarter and make sure you maximise the potential of every customer. Any business not already using customer relationship software (CRM) needs to get on board quickly. If you are not effectively tracking and managing your customer interactions, it is likely someone else will steal a march on you.
In this article we look at the importance of CRM software for SMEs in South Africa, the benefits CRM brings to business and how to go about choosing the right CRM for your business. To help you further we'll look at a few of the CRM systems on the market that are suitable for SMEs.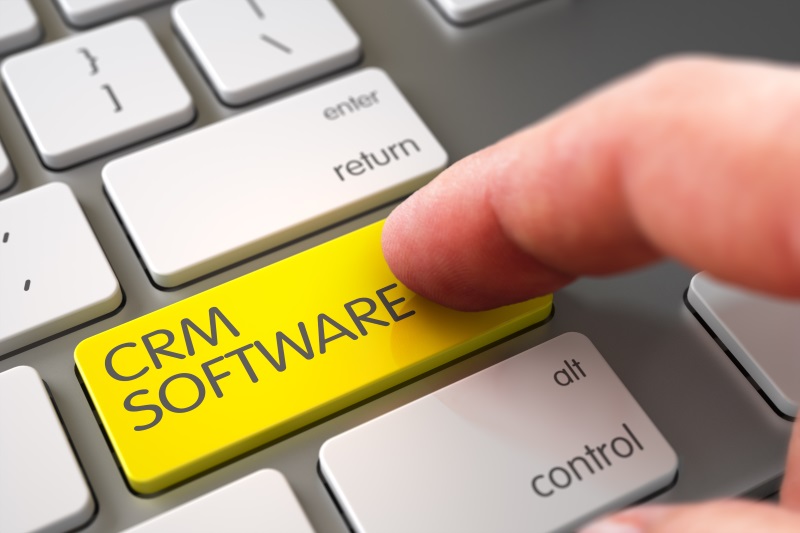 Accessibility for Cloud CRM in South Africa for SMEs
Advances in cloud technology has meant that technology that was once limited to huge corporations is now available to anyone with a Smart phone. You don't even need an office to run a business, everything you need is readily available online, for a small monthly fee, or even for free!
CRM vendors in the SME market recognise that their customers may not be technical experts and have made the software simple to set up and easy to use. You just signup for a monthly subscription and you can be up and running in a few minutes.
Benefits of CRM
CRM software provides a process and discipline to managing your customers and prospects from the point of first enquiry right through their lifecycle with your company. It helps you stay organised by tracking every interaction and makes sure nothing gets forgotten. The technology also lets you integrate the other functions and systems you use to run your business, such as email marketing software, invoicing, and project management.
In a nutshell, CRM software means everything is in once place; no sticky notes on your desk and no jumping from one system to another to find what you need. All your team can access the same information, so they have the latest update of any conversations, emails, quotations etc. Your data is secure and you can control who has access to what.
CRM software helps you prioritise your prospect enquiries and maximise your sales opportunities. A good CRM will also mean a wealth of reports that will help you keep track of how your business is doing.
If you are using integrated marketing software you will be able to see how your customers and prospects are engaging with your emails, providing data on who has opened your messages and clicked on your links. And with everything updating in real-time your CRM dashboard will highlight what's important to you at any given time.
Choosing a CRM
A search online for CRM software is likely to provide more questions that answers! There's a myriad of vendors promoting their software but not all will be suitable.
My advice is to be realistic about your IT competences and your needs, as well as how much you want to spend. There'll be a trade-off between these. In general, the price is determined by how many users you register and the complexity of features included. You may find that even if you can afford all the bells and whistles, you may not actually use them, plus you shouldn't need to commit to everything all at once.
Have a think about your objectives for the CRM so you don't get distracted by things you don't need.
Make a list of a few CRM systems that you think will meet your needs and your budget, then signup for a trial and see how the system works for you. Good advice is to check out their customer service and how responsive they are to your questions. If the vendor is based in the USA, as the majority are, check that they offer support in the correct time zone for South Africa.
Key Features You'll Need
As I mentioned previously, set out your objectives and don't get distracted by features that you don't need. More features will increase the price and will add to the complexity of the product.
A CRM packed with features that you never actually use will be more complicated, more expensive, and is likely to limit user adoption – one of the most cited reasons for CRM failure.
Contact Management and Opportunity Management
Key features you will need are Contact Management and Opportunity Management. Contact Management organises your contact database, letting you find your contacts and past communications in an instant. Opportunity Management helps you effectively track your sales leads, or deals, right through your pipeline so nothing gets forgotten.
However, a few little extras can make all the difference to how you use the CRM. Look for one that lets you customise it by adding your own fields and terms to reflect your sales process.
Email Integration
You'll also want to include email integration, capturing your emails to and from your customers directly to their account timeline. This gives you a full history of your communication that anyone in your team can see, so they always have the latest information.
Task Management and Calendars
CRM is all about keeping on top of your communication and following up at the right time. A basic tool for any CRM is to create tasks for yourself and your colleagues and set reminders to follow up. Ideally, you'll want to integrate this with your calendar so you can see at a glance what needs to be done.
Dashboards and Reports
Another fundamental feature is a good reporting system. Sadly, not all CRM systems include reporting in all their standard price plans so do check and test the functionality. You'll need to be able to run forecast reports and also listing reports on your past activity data and ad-hoc reporting needs.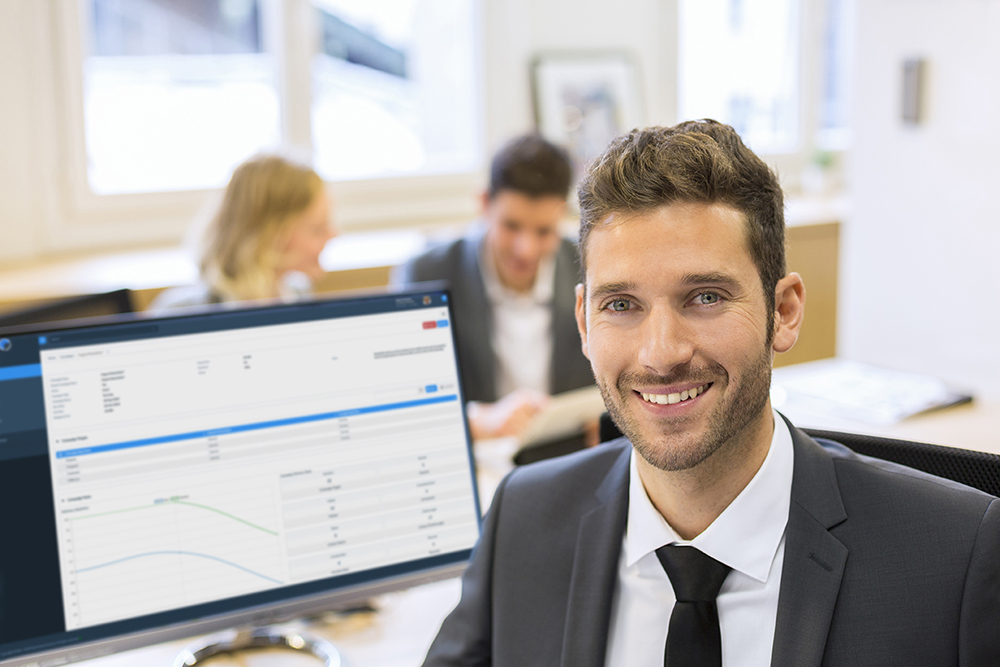 Lead Management
Lead Management is where the more sophisticated features come in, as you look to acquire and process leads, nurturing them through your sales cycle and, finally, win the sale. It is the point of cross-over between the sales and marketing processes; tracking new leads, flagging them for follow up with your team members, engaging with them to nurture their interest in your product, and qualifying their buying potential.
Look for a system that offers web forms so you can integrate your website with your CRM.
Email Marketing and Campaigns Management
If you are running email marketing campaigns, there are many benefits to selecting a CRM with integrated Marketing. You'll be able to run campaigns from the CRM and capture your engagement back to the contact record.
Also if you are using web forms as part of your Lead Management, then you'll find automated campaign management a must have. Here you can set up emails to be mailed to your leads at set intervals, providing them with the information they need as their interest progresses.
Workflow Automations
A CRM with workflow automation will help increase efficiency and productivity by automating your manual processes. Activities in the CRM can trigger workflows to, for example, complete a task according to a set of rules that you define.
You can also use automations to pass data between the different systems you use, keeping all your records up to date. Here you can use a native integration via the system API or you might use an integration platform like Zapier or Integrately.
Mobile App
For field sales, you might find a mobile phone app is a must have, although many CRMs will also work just as well through your browser. CRM mobile apps are generally a cut-down version of the full system so there will be limitations. They are generally designed for monitoring sales and appointments on the go.
CRM Implementation and User Adoption
If you are in the marketing for an Enterprise solution, then you'll find vendors offering implementation packages to get you set up. In some cases, you'll be introduced to implementation partners, but these don't come cheap. Also worth considering is whether the vendor offers partners based in South Africa.
However, in the move to cloud-based Software as a Service (SaaS) CRM there has been a move towards self-service implementation that is attractive to SMEs.
Vendors like Really Simple Systems have finely tuned their implementation process to make it possible to be up and running in a matter of minutes. They offer free customer support and dedicated personnel to help you get the most from the CRM and customise the system.
However, don't be fooled that no maintenance is required. To get the best from your CRM you will need to keep your data clean and up to date, otherwise your team will stop using it and its downfall will be inevitable.
CRM user adoption needs to be part of the company culture, with visible use coming from the top. Get senior management buy-in and let them be seen using and benefiting from it. Getting managers to use it first will also mean that managers will use the system to manage from day one and can then help and supervise their team's adoption.
Best CRM Software in South Africa
Here we take a look at the 5 most popular CRM software in South Africa and examine their suitability for the small business sector.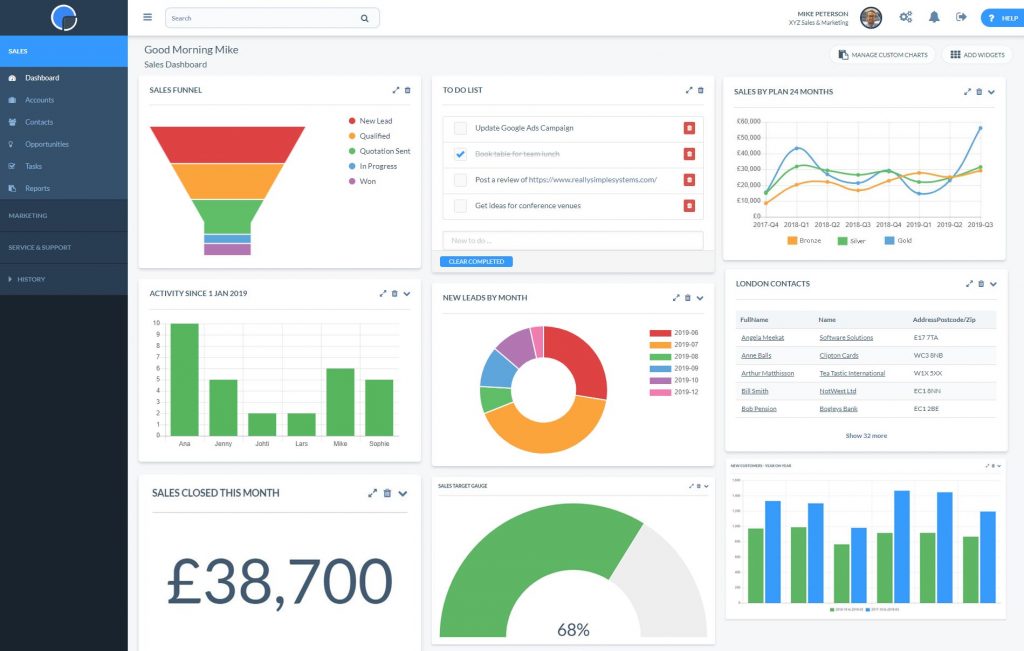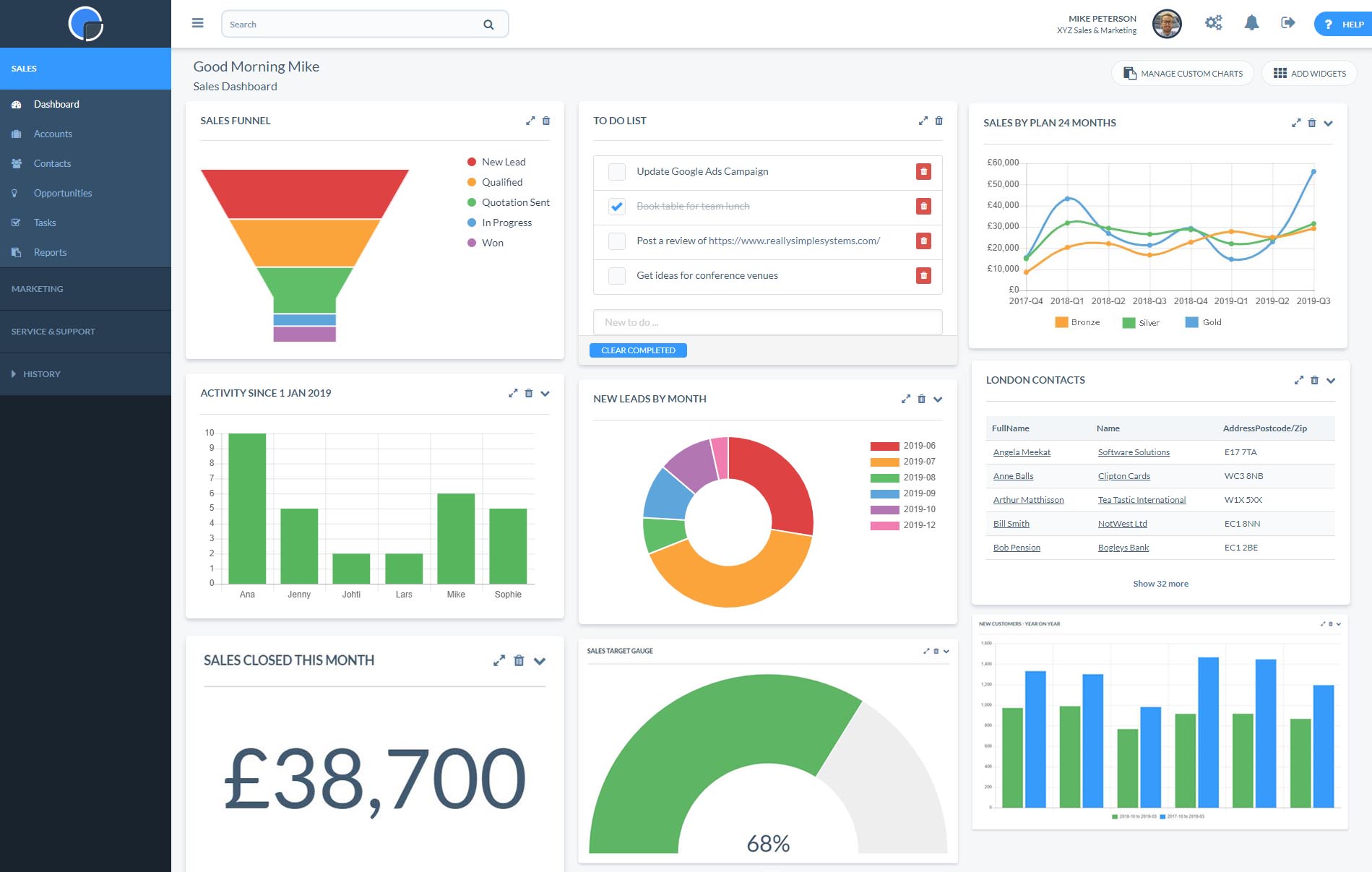 Really Simple Systems is an intuitive and simple CRM that ensures you have a great overview with easy control over your sales and marketing. It's particularly suitable for the South African market as it's aimed at small and medium businesses, operating B2B, and being based in the UK makes easy to get customer support. Actually, it's worth pointing out here that the customer support at Really Simple Systems is amazing! Customers from around the world comment on this time and time again, which is a rare thing these days.
Another advantage of Really Simple Systems is the fact that it offers a high degree of customisation so you can basically choose and pay for exactly those features that your business needs, based on its size and industry. Really Simple Systems offers three price plans to choose from, but there is also a Free CRM option for two users and 100 company accounts.
The entry level Starter plan is perfect for sales tracking and small team collaboration, and features include unlimited contacts, 1,000 company records, 1GB of document storage and 5,000 API calls per month. With the Professional and Enterprise plans, you'll get more space to store documents, more API calls and some really useful functionalities, such as user permission levels, email integration, lead management, database segmentation, campaign management, service level agreements and much more.
We've already mentioned the customer support but also worth noting is the extensive library of support resources available. The CRM includes pull out Help Drawers on each page with tutorial videos, tips for using the feature and links, plus a Support Hub with step-by-step guides explaining how to use the full system. There are regular interactive webinars run to suit the international time zones, so there's no fear of issues with time difference.
Price
Free Version: Yes
Starter: from US$14 per user/month
Professional: from US$30 per user/month
Enterprise: from US$46 per user/month
Features
Opportunity Management
Lead Management
Email integration
Integrated Marketing Tool
Custom settings
Workflow Automation
Free and amazing customer support
Easy to use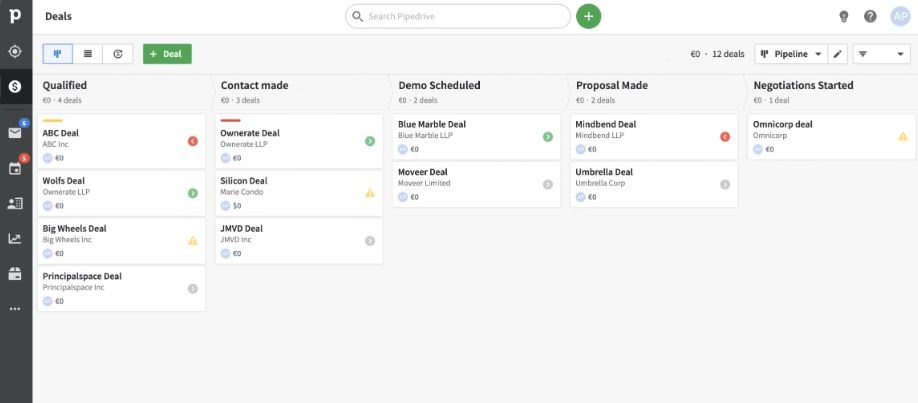 Pipedrive has a strong focus on sales making it a good option for managing leads through the pipeline. The system itself is fairly simple and straightforward yet some of the screens seem overly complicated. There's rather a lot going on with each menu option inviting you to set up more options, which means there's a lot to take in when you first get started.
For many years Pipedrive was just for sales but more recently an email marketing tool has been added, along with other features and integrations, such as calendar management. Sadly, these additions mean it's not as simple as it used to be but still a contender.
Customers report that the marketing tool is not as robust as some, and they have experienced a lot of system downtime. Reading user reviews posted online users claim the customer support is quite slow and the system can take a long time to load.
There's no free version and prices start at US$14 per user per month (paid annually) for the Essential plan.
Price
Free version – No
Essential from US$14.90 user/month
Advanced from US$24.90 user/month
Professional from US$49.90 user/month
Enterprise from US$99 user/month
Features
Sales management
Workflow Automation
Reporting
Task Management
Custom settings
Phone App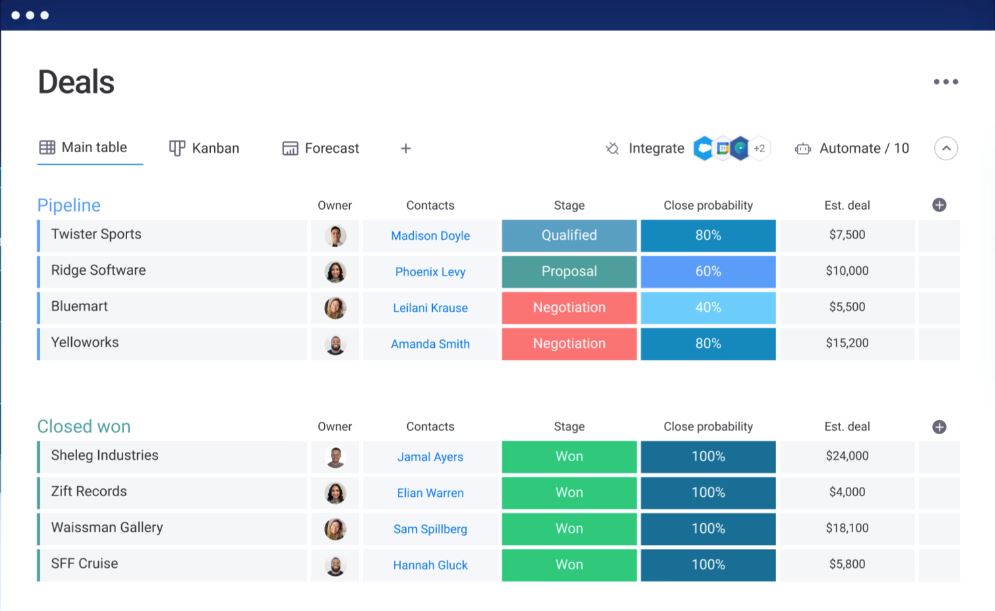 Initially launched as a process and project management system, monday.com has expanded into the CRM market and has been aggressively promoting itself in recent years. The CRM focus is on sales management, enabling lead tracking through the pipeline and describes as being a best fit for small and mid-sized organisations. However, it is effectively a project management tool that has been tweaked to be used for customer relationship management. CRM is not it's strength and the interface, which has been described as a collection of highly customised spreadsheets, is a bit complicated for managing sales, however, it is popular with many.
monday.com offers a "free forever" plan for up to 2 users, after which the pricing scales up based on the number of users, as well as functionality. Paid plans start at $11 per user per month, billed monthly, for the Basic plan with a minimum of 3 users, though most features are only included in the Standard plan and above.
Price
Free Version – Yes
Basic from US$11 per user/month*
Standard from US$15 per user/month*
Pro from US$26 per user/month*
Enterprise price on application
* Minimum 3 users
Features
Contact Management
Pipeline Management
Email Synchronisation
Integrated project management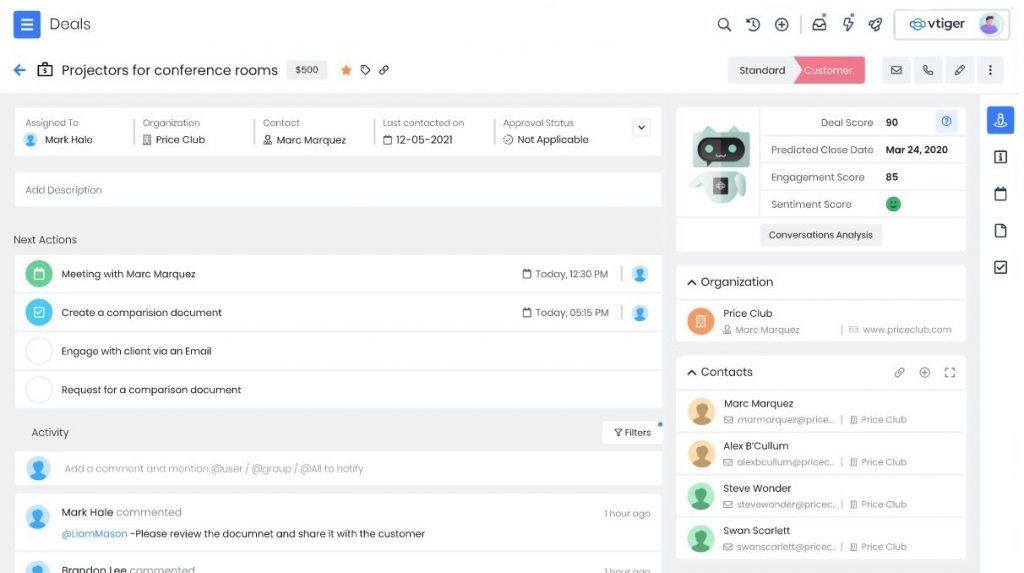 Vtiger is the outlier here, it ticks all the boxes yet rarely features in any CRM recommendations. It is an all-in-one CRM, meaning that it includes integrated marketing and support apps sold as a package. This can be excess to need, however, the pricing does allow for some users to have access to the full system and others to have just one app, which may suit some business.
Interestingly, Vtiger has undergone a major upgrade recently and its UI is contemporary and looks good, but could be simpler. There's a lot going on with each screen so it takes a while to get used to finding what you want. Customer reviews suggest that the system has it's shortfalls though as is described as "cumbersome" with reports that the new V9 version has a lot of glitches. Customers also suggest that the customer service is lacking.
Price
Free Version – Yes
Pro from US$30 per user/month
1 App from US$20 per user/month
Enterprise from US$42 per user/month
1 App from US$30 per user/month
Features
Sales Automation
Pipeline Management
Reports & Analytics
Predictive Intelligence
Custom Settings
Email Integration
Integrated Marketing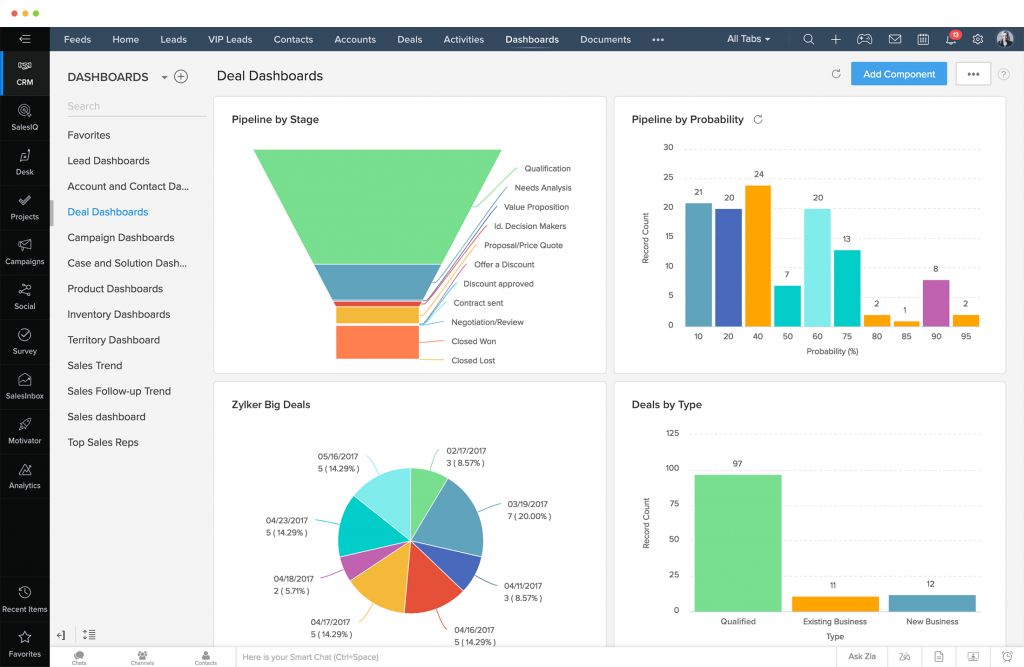 As one of the leading, long established CRM brands you'd be right to expect a lot from Zoho. It certainly includes a lot of features – so many in fact that it can be a bit overwhelming. As a solution, Zoho has introduced a dedicated CRM for small businesses call Bigin by Zoho, that is available at very low prices. However, it is likely that this is just too basic for most businesses.
With so many features, Zoho can be time consuming to get set up and customise but users report that, once set up, it is easy to use. It has some really neat features like its AI assistant, Zia, and the new Canvas tool that lets you extensively customise your desktop, editing the fonts, colours icons etc. You can also add numerous extensions using Zoho Marketplace for marketing, service, project management and finance, to name but a few, yet rarely is it suggested that these are best-of-breed products.
Zoho does offer a Free CRM solution, though what was once a generous offer has been cut back over the years. The features are now quite limited and it is limited to just three users. However, for very small teams that need just the basic functionalities, Zoho's free solution could still do a very good job.
Where Zoho comes in for most criticism is with it's customer support. Users report that the response time is slow and solutions presented are incomplete.
Price
Free Version – Yes
Standard from US$14 per user/month
Professional from US$23 per user/month
Enterprise from US$40 per user/month
Ultimate from US$52 per user/month
Features
Workflow Automation
Lead Management
Deal Management
Email Integration
Customisation
Reports & Analytics
Predictive Intelligence
Which CRM in South Africa is best for my business?
If you are unsure which CRM is best for your business, the only way to know for sure is to test a few and see which works best for you. You will need to be prepared to put some time into testing and reviewing these but it will be time well spent.
As I said before, be realistic about your IT competences, your budget and the features you need. Don't be lured into buying something that has lots of features that look great but that you will never use. Yet do consider what you might need in a year or two's time as your business grows and make sure the system has the capacity to scale up.