CRM
• Jul 22nd, 2021 • Guest Writer
Top 5 HubSpot Alternatives for Small Business
If you're in the market for a new CRM, we've reviewed 5 competitive HubSpot alternatives, all suitable for small B2Bs.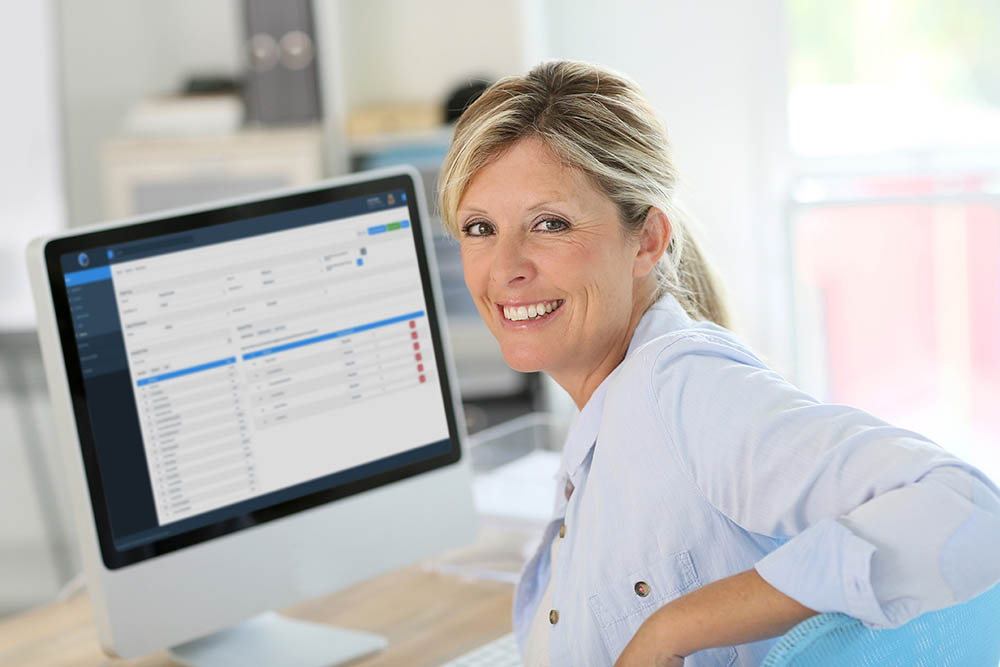 HubSpot Alternatives for SMEs
If you're an SME or micro-business in the market for a CRM, chances are you've heard of HubSpot. HubSpot offers its basic sales CRM for free, and we'd wager that many of you reading this have at least given it a go.
Though their free plan is generous, there eventually comes a time when a growing, developing business needs more than just basic CRM functionality. And HubSpot (understandably) puts much of their most useful inbound marketing, sales, operations, and customer support tools behind a paywall. Unfortunately, they're far from the cheapest on the market, and can be prohibitively expensive for smaller businesses with narrow margins.
But cost is just one factor when it comes to choosing a CRM. There are numerous elements to weigh up, like functionality, integrations, interface, and much more. So if you're considering a move away from HubSpot, or you're a first-time CRM buyer exploring the market, here's an honest look at the top 5 competitive HubSpot alternatives, along with some feedback from their users.
Top 5 HubSpot CRM Alternatives for Small Business B2Bs
1. Really Simple Systems CRM
At the top of the list, we have a plucky CRM that lives up to its name. Really Simple Systems CRM is a great low-cost sales CRM with a simple, intuitive interface. Really Simple Systems is available in 4 product tiers – one free forever and 3 with increasingly wide feature-sets, with marketing and service desk bolt-ons available at an extra fixed monthly cost.
Really Simple Systems integrates well with industry leading accounting packages like Xero, SageOne, and KashFlow. It's Zapier integration allows for further cross-platform integration with the likes of Mailchimp, Trello, Wix, and Slack.
Moving over to the customer reviews, a number of users mention that they've been happily using Really Simple Systems CRM for the better part of a decade – including one for 9 years and another for 7 – impressive longevity in such a fast-moving market! One user's only stated disadvantage was "not finding Really Simple Systems CRM sooner" – high praise indeed. Really Simple Systems' product support is excellent, with many users reporting a prompt, helpful, and efficient solution to their queries.
Discover if Really Simple Systems is Right for You
Take a free 14 day trial
Adopting new software always comes with a learning curve, especially with tools as essential as a CRM. Really Simple Systems provides live and on-demand webinars plus thorough support documentation demonstrating how to get started with the system and get the most out of its features. Customising everything to meet your team's needs can take a while as you familiarise yourself with the system, but the Really Simple Systems support team is on hand to help. It really is worth it once everything comes together!
Interestingly, few disadvantages are reported from customers. Most negatives stated in reviews refer to individual technical needs. It's clear from the comments that the Really Simple Systems team is monitoring this feedback and responding with product developments. The software has been designed for the B2B market, so sales pipeline activity is tracked by company (under "Accounts") rather than by individual contact – this may trip up some users who are more familiar with HubSpot and B2C systems.
Summary: Simple, no nonsense CRM and marketing tool developed specifically for B2Bs with good after sales support.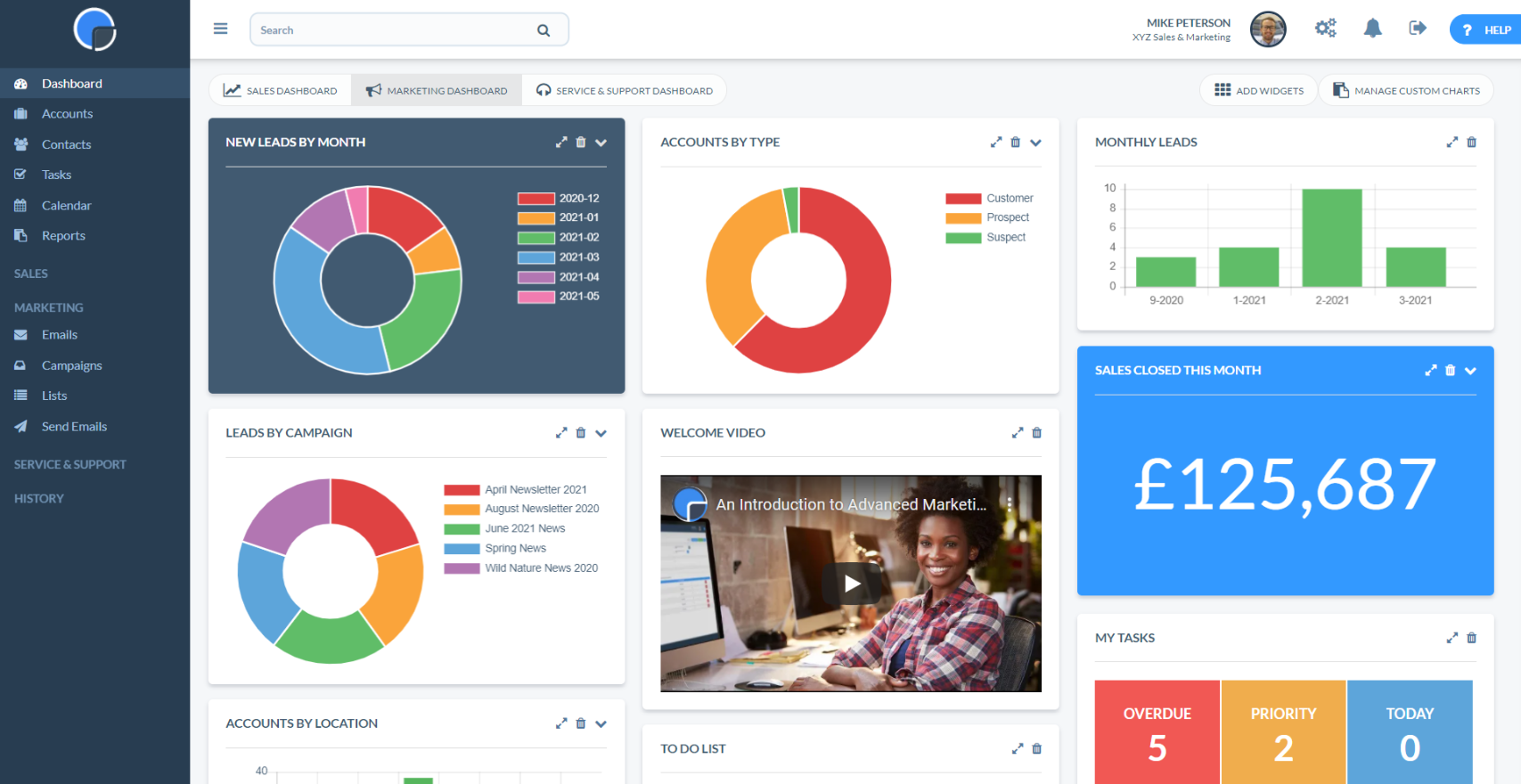 2. Zoho
Zoho is a well-known contender with a lot of potential under the bonnet. In addition to the basic sales CRM record-keeping you'd expect, Zoho features rich marketing automation capabilities, social media integrations, team collaboration tools, support modules, and analytical functionality – depending on the package you choose, of course.
There are 5 "editions" in total – a scaled back free option, and 4 paid options – all charged per user, per month. Each of the CRMs on this list have a quirk worth mentioning, and Zoho's is its focus on automation. Most editions of Zoho feature some kind of automation, such as automatically assigning leads to sales reps depending on their geographic location. But the higher tier packages come with a Siri-like AI assistant called Zia.
Zia's AI can be used to man your website chatbot functions, but she really shines behind the scenes. Zoho users can ask Zia simple questions about their CRM records, sales pipeline, or forecasting and receive immediate answers. But aside from Zia, Zoho boasts a clear interface and simple reporting capabilities. Like HubSpot, it features a visual Kanban-style sales pipeline, enhanced by Zia's predictive insights.
So why isn't Zoho at the top spot? Well, unfortunately it seems that its after-sales support sometimes lets it down. Though many of their reviews are positive, some do raise the issue of slow technical support. In fact, Zoho's levels of support seem to be a particular bone of contention for those who left negative reviews too.
Summary: A decent CRM with rich automation capabilities, but some reviews warn of sluggish, sometimes disappointing technical support.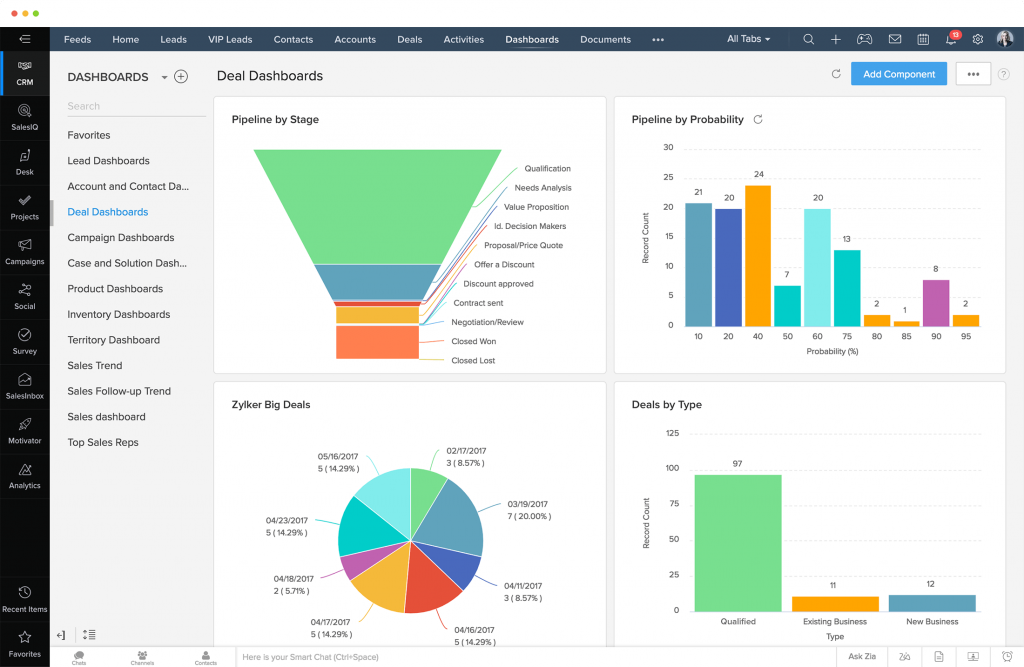 3. SuiteCRM
SuiteCRM is an interesting technical anomaly on this list: it's totally open source, and if you are happy to host the software on your own servers then you can simply download it from GitHub, install, and you're away! Its open-source nature has given it a very active developer community and plenty of optional modules and plugins.
However if self-hosting isn't your style (as it comes with some drawbacks that we'll explore below) SuiteCRM:OnDemand is their hosted option, which is a paid product. It's priced straightforwardly, with a flat annual fee across it's three tiers, regardless of the number of users. Though this pricing model may seem like a refreshing change, it does mean that smaller teams will always get the least value for money, and large teams will always get the most.
The open source, self-hosted version is free (as is the case with a lot of open source software). But don't get too excited about the nonexistent price tag – when hosting the software yourself, there may be additional costs and trade-offs to consider.
Hosting the CRM on your own cloud or web servers may result in additional hosting fees, and there are also security concerns to wrangle with too. CRMs are a tempting prospect for data theft, so hosting yours on just any old server may be risky. If you need SuiteCRM to do something that isn't already covered in one if its integrations or developer plugins, there may be costs associated with getting that developed and implemented. These additional technical needs may also put a strain on your in-house IT personnel.
So how is the actual CRM? It's reportedly easy to use and navigate straight out of the box, though some users feel that the user interface needs a bit of a modern facelift. There are plenty of plugins and modules, so chopping and changing functionality is possible… if you know how. Its reporting functionality, "Spots", is interesting: it allows you to compare any set of data points within the system to any other set, visually or as a table – kind of like an enhanced pivot table function.
Summary: Easy to use CRM with a vibrant dev community, but the hosted version may not provide the best value for smaller teams. Self-hosting is free, but that may present costs in other ways.
4. Agile CRM
Agile CRM is one of the lesser-known contenders on this list, though many users report getting on well with it. It provides many of the functions you'd expect from a basic "starter" CRM, with a clean, colourful interface and 4 package tiers – one of them free.
Agile CRM includes a basic sales CRM, with optional marketing and customer support add-ons. Client invoicing can be managed through the platform due to integrations with the likes of QuickBooks and Xero, with Zapier opening the door to even further cross-platform functionality. Sales pipeline management is very visual, with a robust Kanban board-style (much like HubSpot's) and features that "gamify" the sales process for healthy in-house competition. It can even handle live web chat and SMS marketing, which you don't see every day from a CRM. 
So, where's the catch? Unfortunately, some of Agile CRM's less rosy, recent reviews complain of unwelcome contractual ties and disappointing customer service. 
Summary: As a product, it's a fine starter CRM – but it's far from without flaw. If the poor reviews are anything to go by, you'd need to pay close attention to the platform's fine print and support levels.
5. Salesforce
Salesforce is probably the biggest contender on this list, so why does it rank lowest in the top 5? Well, despite its market-leading status and vast functionality, there are two major factors that let it down: cost and complexity.
Let's tackle cost first. Salesforce doesn't offer a free version (other than temporary free trials) making it a bit of an outlier on this list. Even its specially designed small business option isn't particularly cheap – and at "per user, per month", the costs quickly stack up. In fact, it's difficult to get a good grasp on Salesforce pricing because there appears to be so many different versions and modules – Small Business, Sales, Service, Marketing, Platform, Ecommerce – the list goes on.
This leads me to my second bugbear about Salesforce: complexity. It has numerous versions, each with countless integrations, third-party API hooks, and general bells and whistles. This is great for larger organisations who may need a complex, sprawling hub that covers a number of different, bespoke needs.
Though its depth of capability means Salesforce shines in the corporate market, it's likely to be quite overwhelming for busy SMEs and micros. Additionally, if you need Salesforce to do something in particular, you may need to get a developer to make that happen – further increasing costs. Managing these custom modules may require some level of in-house IT oversight, yet dedicated, in-house IT personnel are often few and far between in smaller businesses.
Again, this hints at Salesforce being a better fit for bigger businesses with deep pockets who are looking for broader, bespoke ERP capabilities.
Summary: Salesforce is a better choice for big businesses who have the funds and IT capability needed to make the most of it. It can be overwhelmingly complex for smaller organisations who are looking for a simple, no-fuss CRM solution.
Our Verdict
Value for Money: Really Simple Systems CRM
SuiteCRM is free open-source software, but their self-hosted functionality probably isn't suitable for everyone. Zoho's free version is reportedly quite limited. Taking a balanced view between value and pricing, we feel Really Simple Systems CRM comes out on top.
Integrations: Tie (except Suite CRM)
Many of the tools on this list have quite similar third party integrations, it just depends on which systems integrate best with the other software you use. Zapier integration (which is notably absent for SuiteCRM) further levels this playing field.
Functionality: Really Simple Systems CRM
For a simple, no-fuss CRM that you can reportedly rely on, Really Simple Systems CRM takes the crown.
Interface: Agile CRM or Zoho
Visually oriented users may be drawn to Agile and Zoho's bright, visual user interfaces and their use of at-a-glance Kanban boards for sales pipeline management. However, I understand that Really Simple Systems is looking to introduce a Kanban option shortly.
Support: Really Simple Systems CRM
Going from the reviews, we have to say that Really Simple Systems' dedicated customer support and resources win hands down!
SME Suitability: Really Simple Systems CRM
In terms of the target audience for each CRM platform, the ones on this list that seem best set up for small and micro businesses are Really Simple Systems CRM and Suite CRM. However, SuiteCRM's self-hosting may not be desirable for a small, busy team, and their hosted option may be prohibitively expensive.
Overall Winner: Really Simple Systems!