Sales
• Dec 7th, 2022 • Max Jones
5 Sales Enablement Trends for 2023
How to increase sales by providing your sales people with all the resources needed for them to be more efficient.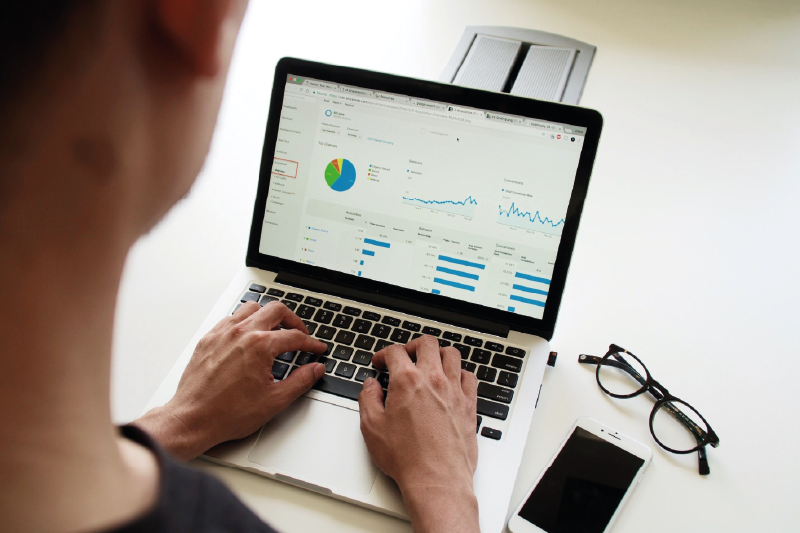 Understanding Sales Enablement
The process of providing sales people with all the resources needed for them to be more efficient is called sales enablement.
The concept of sales enablement has been with us for almost two decades now. We can trace its origins back to 1999 when John Aiello and Drew Larsen founded SAVO, the first sales enablement platform.
The idea behind it was to help solve some of the sales most prominent problems back then: 
Lack of information about customers and products
A sales process that varies from cycle to cycle
Lack of a consistent brand message delivered by sales and marketing teams
After a period of obscurity, the concept started to resonate with the world again around 2010. With the evolution of technology, the sales process started to take a different shape, and sales enablement strategies began to have a huge impact on how companies conduct their sales.

Big companies like Forrester, Gartner, SiriusDecisions, and IDC joined forces and formed the Sales Enablement Society (SES). With such powerful names behind it, sales enablement finally became an official profession. A study done by CSO insights in 2018 shows that 61% of the companies that took part in the survey have a sales enablement function.
As we can see from the image below the search volume for "sales enablement'' is growing with each month.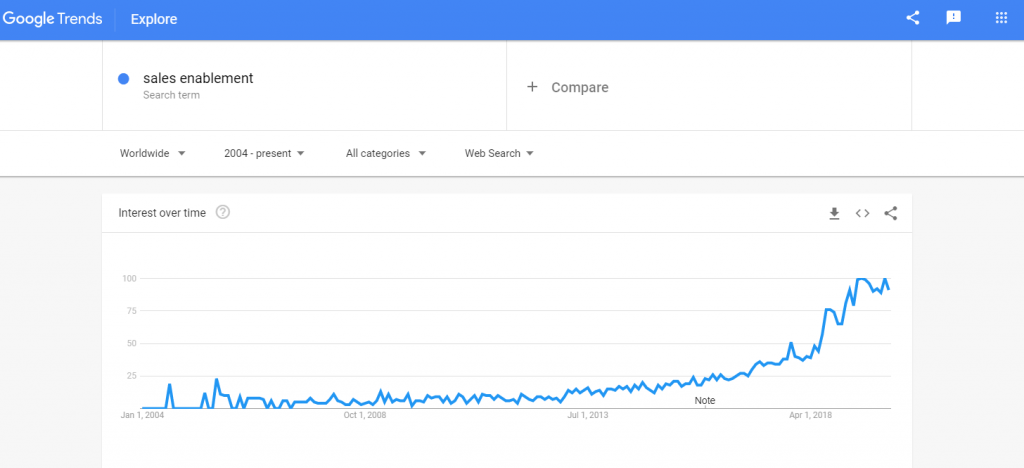 The history lesson is over, now let's see what trends 2021 holds for sales enablement
Stages of Enablement
To begin implementing a sales enablement strategy you must know at what stage your company is right now. If you are wondering where your company is on this scale read through the next four stages of sales enablement. 

Undefined
Not using CRM or marketing automation
New reps hit quotas within nine months
Sales and buying process is not defined
Metrics are not known and tracked
Win rate is lower than 10%
Progressive
CRM is implemented and slowly adopted
Sales reps hit quotas within six months
Win rate is between 10-20%
Mature
CRM, marketing automation and sales enablement are in place and fully adopted
Sales reps hit quotas within four months
Fully Developed
All systems are mobile-friendly
Sales reps hit quotas within three months
Content is sale optimised
Still Not Using CRM?
In the past, small and medium-sized businesses were reluctant to hop aboard the CRM train and understandably so, as the software was a bit rough around the edges. In the past few years though, CRM has become one of the main tools for any company that dabbles with sales. 
Prospects today spend a lot of time interacting with your website before making contact, and with CRM you'll be able to follow your customers every move and gather data about their journey. 
It will allow you to see their interests, determine their profile, and challenges. This information is automatically analysed and reported, so if you still can't see the benefit be prepared to be outsold by your competition.

On top of that, highly customisable CRM systems have so many features that it makes no sense to use data collection and spreadsheets. The bottom line is if you are not using CRM already, start right away because 2021 is here, and Santa brings gifts only to tech-savvy businesses!
Find out if CRM Software is right for your business
Take a free trial of Really Simple Systems
Sales Training
Sadly we all remember the 2008 recession. One of the first things that businesses cut was sales training. At that point in time, it was the most sensible move, since all the sales plummeted. But now almost twelve years later some companies are still reluctant to bring it back. In 2021, this might prove to be one of the biggest resources for sales enablement.
With all the technology available the sales process is evolving at a rapid pace, and your employees must be educated accordingly. 
Finding a good sales coach will be hard, but with a forward-thinking leader your team will be able to become adaptable, and they will accept and implement new strategies on the go. 
Instead of hiring an outside short term fix, think about hiring an embedded sales coach who will be there for your team every day.
Sales Enablement Content
With communication between teams being at their highest level, marketing and sales teams can finally work as one. The content that the marketing team produces today is better suited for helping sales people move things forward, but that's not enough. First, you need to analyse your content and see how sales friendly it is.
Make sure to talk to your sales reps and see what are the most common concerns and questions customers have. Sift through your content and apply the changes, sometimes you might tweak a feature page or a case study a few times until you get what you want.
Here are a few suggestions on how to take this on:
Use internal documentation for fresh content
Form content to your customer journey
Listen to your reps requests
Choose which content to present visually
Are You AI Friendly?
The rise of AI in customer service is undeniable in the last few years. Research done by TechRepublic found that 29% of companies are using AI. This number might not look amazing, but remember that chatbots, as we know them today, emerged just a few years ago. 
Some more reassuring numbers are that 90% of businesses report faster complaint resolution with chatbots, and 57% of them report ROI increase with minimal effort. 
Implementing chatbots into your business strategy is a must, no matter if you are a B2B or B2C organisation. In 2023 chatbots will have an even bigger impact in saving time for your sales team. Right now they can answer simple questions, analyse responses and send follow-up emails. 
With this, the leads that your sales people receive will be more qualified, thus ensuring a huge rise in profits and productivity.
Small But Efficient Teams
With so many upgrades enabling the sales team to be more efficient it's possible for them to get downsized. This is not necessarily a bad thing, as the downsizing will affect only the poor performers who won't be able to adapt. 
As your leads will be handled by chatbots, your top sales people will take them over only when they are qualified enough and close the sale. Of course, if you have a team full of hard-working people who adopt AI as a tool that will do the hard lifting there won't be a need for downsizing.
"I'd be more worried about being replaced by another salesperson who is empowered by intelligence than by a machine.'' says futurist Peter Schwartz.
Takeaways
For some companies, this article will show what's their next step in the sales enablement strategy, but for others, it might come as a headache. 
The former companies should continue what they are doing and accept the trends coming in 2021, and the latter should reevaluate their position and invest in the trends we have talked about. 
Hey, even companies can have New Year resolutions!