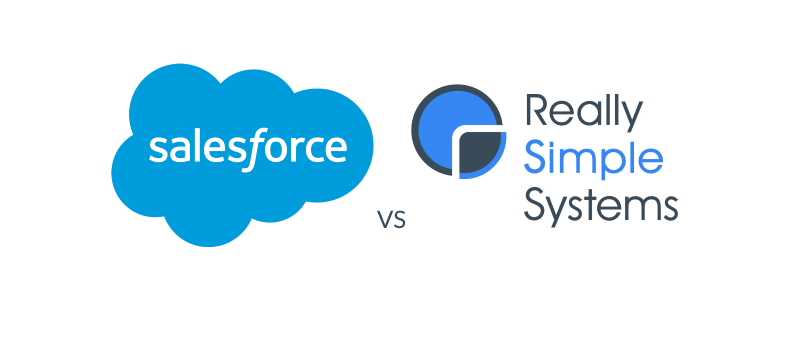 So, despite my somewhat clouded judgement, I thought it was time I ran a Salesforce comparison to see for myself how it compares.
Getting Started
I'm a marketer not a tech person, though I'm hardly green when it comes to CRM. Throughout my career, and in the name of competitor research, I've trialled many different systems so I'd expect to have a bit of an advantage over the average new customer.
Having waded through quite a messy website I finally find what I am looking for – the 'free trial' button. Now, I know Salesforce has a different product for small business, SalesforceIQ, though it's not clear from the website that this is a different product and not just a price break.
Data Protection
An early turn-off, and quite worrying, was the content of the sign-up agreements needed to progress to a trial. To take the trial meant giving consent for Salesforce to have access to my data and then agreeing that my data would be hosted in the US. As this is in breach of EU data protection legislation, and is therefore illegal, it comes as a surprise that Salesforce has any customers in the UK and Europe!
In the coming months, this practice will be of additional concern as the new EU General Data Protection Regulation (GDPR) comes into force in May 2018. Really Simple Systems is working to ensure compliance with the new legislation for our business and for our customers.
My first impression was "Oh, is that it?" There's a really dull user interface and there's nothing very inviting to get started. The system works by setting up "lists" that manage the various CRM processes, be that contact management or sales. You can create lists for your leads, opportunities, accounts etc. Although not particularly intuitive, a quick view of the resources link and the help videos will get you started.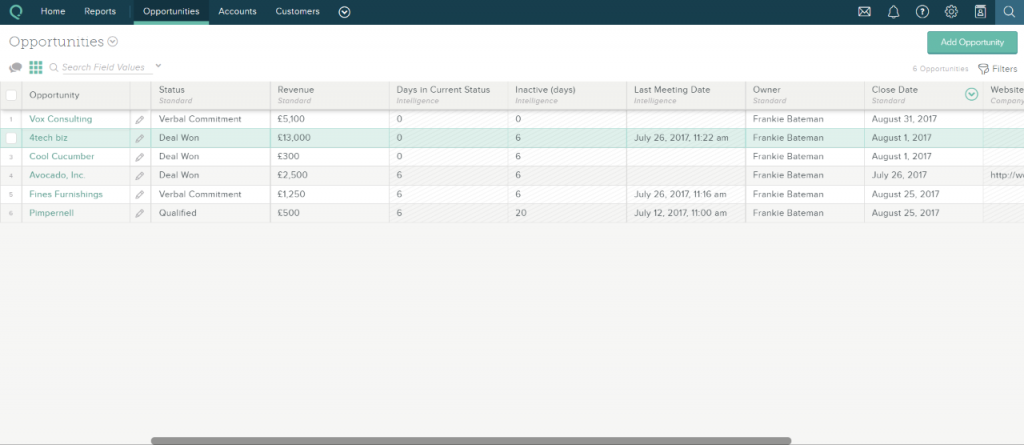 My first impression was "Oh, is that it?" There's a really dull user interface and there's nothing very inviting to get started. The system works by setting up "lists" that manage the various CRM processes, be that contact management or sales. You can create lists for your leads, opportunities, accounts etc. Although not particularly intuitive, a quick view of the resources link and the help videos will get you started.
Importing Data
Whilst the pages are quite slow to load, the import data function is fairly easy to use, once you find the button! There's a 'drag and drop' feature to map the fields which works quite well.
Reporting

There's a lot of report options which are quite nice though they're only available in the more expensive versions. The forecasting and pipeline reports are only available in top level Business plan at $125 per user per month. However, the reports layout makes the data quite difficult to read as it's split into a graphic view and a small scrolling window for the data view, so if you've a lot of data or users you can't see everything at once.
Salesforce IQ Summary
Although this is not the most attractive or intuitive CRM, you can no doubt customise SalesforceIQ to successfully manage your customers and sales process. It's fairly basic though there are some nice features. But it comes at a price. The entry Starter plan at $25 per person is very limited (only one "list" included) and you'd soon need to upgrade to the Growth plan at $75 per user per month. There's then a big jump up to the Business plan at $125 per user per month to get the extra reporting features and API access. The only subscription option is for an annual contract so this will mean quite a big upfront commitment.
Testing the standard Salesforce product, Salesforce Lightening, was a different experience, but not in a good way! Logging in for the first time you're faced with a very busy screen and more options than you can shake a stick at. In many ways, it's more intuitive than IQ yet quite confusing with a few system bugs apparent.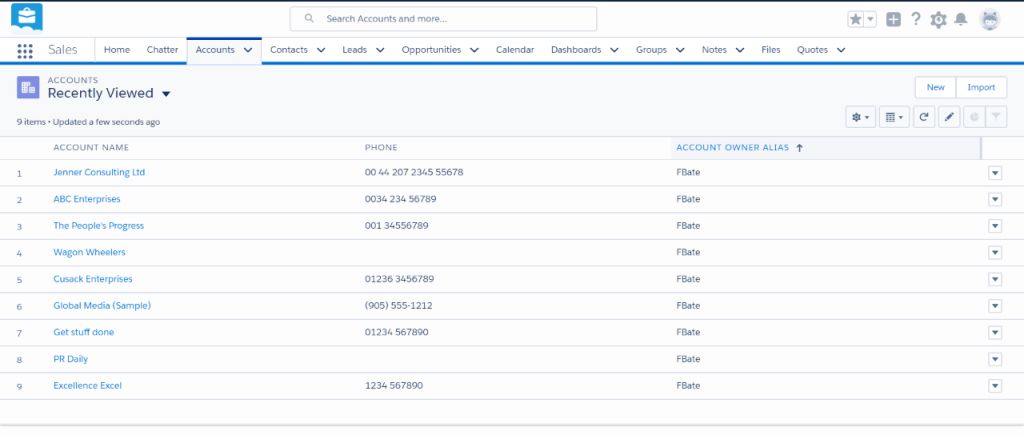 Salesforce Lightening is the latest version with a new user interface. It's pretty uninspiring but you can switch to the old Classic interface. Classic looks very dated, though I can imagine that many people might prefer the more condensed screens and colour variation from that offered with Lightening.
There's a generous 30-day trial period yet after two days, as I didn't respond to an email request to set up a sales call, I got a message to say my trial had been terminated. This seemed rather heavy handed! Having convinced the sales person I was still trialling the system my account was reinstated.
My main problem with Salesforce came when trying to import a data file. You can only import CSV files and there's no field automapping. My data fields were fairly standard yet Salesforce had trouble mapping them to the available fields, e.g. matching Company Name to Account Name.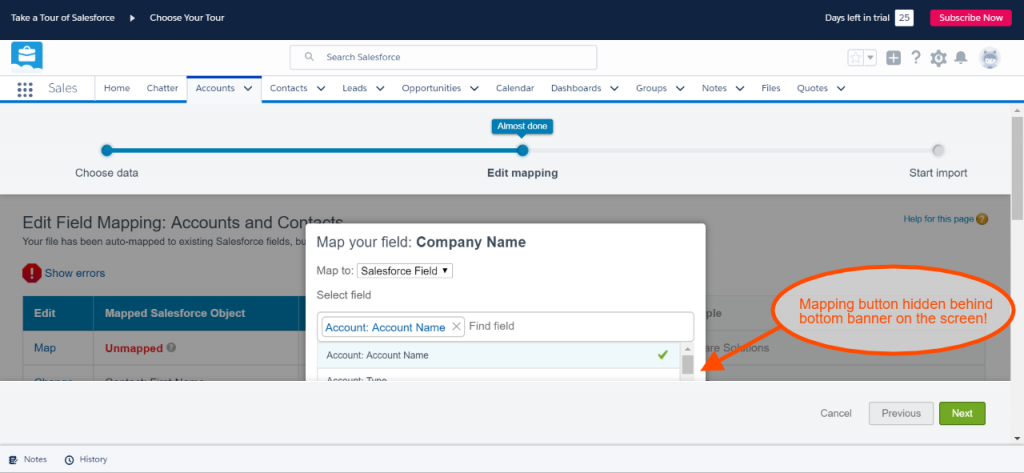 Mapping options are provided but the trial nearly came to a halt at this point as the button needed to complete the mapping function was hidden below the bottom screen banner (see screenshot). To get around this I had to change the field names in my data file to fit their field names and start again.
This time round I got as far as a screen that congratulated me on importing my data. Except there was still no data loaded. A query to the Salesforce support team resulted in a message back recommending downloading their advanced data loader tool. This looked overly technical for importing a dozen test records so I was stuck with loading them individually to carry out the trial.
Salesforce Lightening Summary
Salesforce is a complex system and to set it up to meet your business needs is likely to require some technical support. Otherwise you'll need time and a lot of patience. There seems to be plenty of support offered during the trial, though users report that they got dropped quickly once the sale had been made. No doubt this is the point where your requests are then dealt with by the out sourced support centre in India. The resources available are a bit overwhelming and often quite technical. I don't think they are really expecting sales and marketing people to be doing the set up as these appear to be designed for implementation specialists.
Once again subscription is only available on an annual contract with an upfront payment. The Professional plan costs $75 per user per month (interestingly the same as the SalesforceIQ Growth plan), the Enterprise plan costs $150 per user per month, and Unlimited $300 per user per month.
User Reviews
Looking at what Salesforce users say, there's certainly some mixed messages. Overall, the feeling is that Salesforce is good but expensive and that you'll need a competent IT team to get it set up to work for you. Feedback on the customer support is quite damning though and customers also report difficulties in training staff to use it.
Best for Small Business?
Although Salesforce is the CRM market leader (19.7% of market share) it seems unfair to suggest that even the SalesforceIQ system is suitable for small business. There are other systems that far better meet the needs and structure of small businesses. Maybe if you have used Salesforce in a larger organisation you might prefer to stay with what you know yet the costs might severely limit this.
Salesforce Comparison with Really Simple Systems
Salesforce has some nice features but will be overwhelming for most small businesses owners. It's designed for large organisation with big teams and complex sales processes that won't be relevant for smaller companies.
In comparison, Really Simple Systems has been designed specifically for small and mid-sized businesses with thought given to who is using the system and how.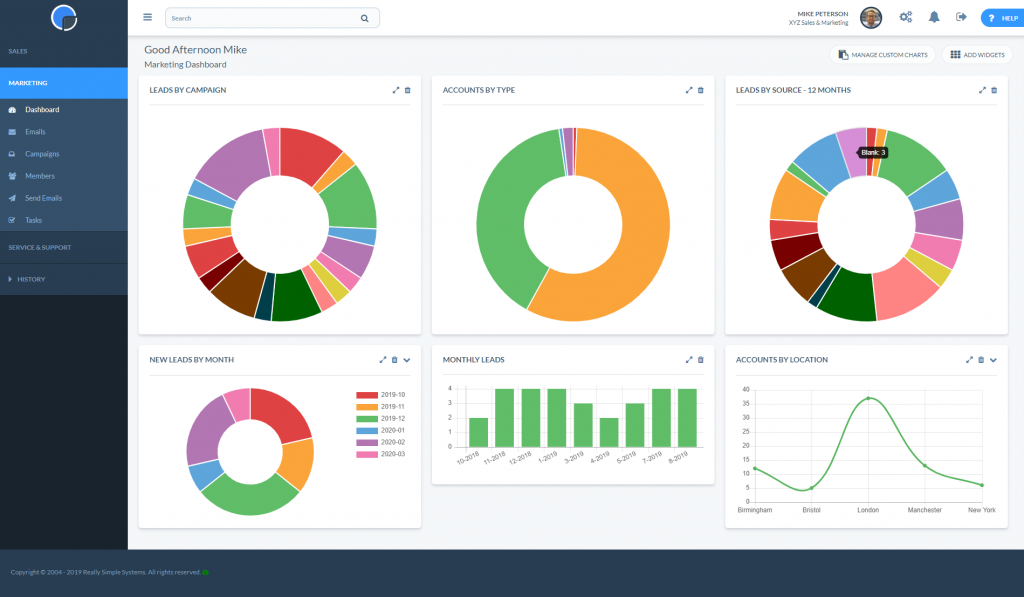 The new Version 5 interface is very clear and intuitive so you're not left searching around to find out how to do things. The support resources are easily accessed, simple and non-techy. And the pricing plans do actually mean you can have an effective CRM system for a very small outlay and no more than one months' commitment.
Being UK based means Really Simple Systems operates under EU and UK data protection law, ensuring all your data is held securely in the EU. The new GDPR legislation to be introduced in May 2018 increases the data storage and security measures needed and Really Simple Systems is working towards ensuring compliance.
Try It Yourself
It's a shame that Salesforce's market strength, and marketing budget, means it commands such prominence in software reviews and ratings, as this is not always in the best interest of the buyer. Sadly, the seemingly abundant independent advice is not always just that but paid for promotion. Fortunately, the opportunity to trial systems means you can look at multiple products and weigh up what's important to your business before buying. My advice would be to make your own judgement, don't be taken in by the marketing spiel, and do read what other customers say before you buy.
And we won't try to cut your trial short if you don't take our calls!