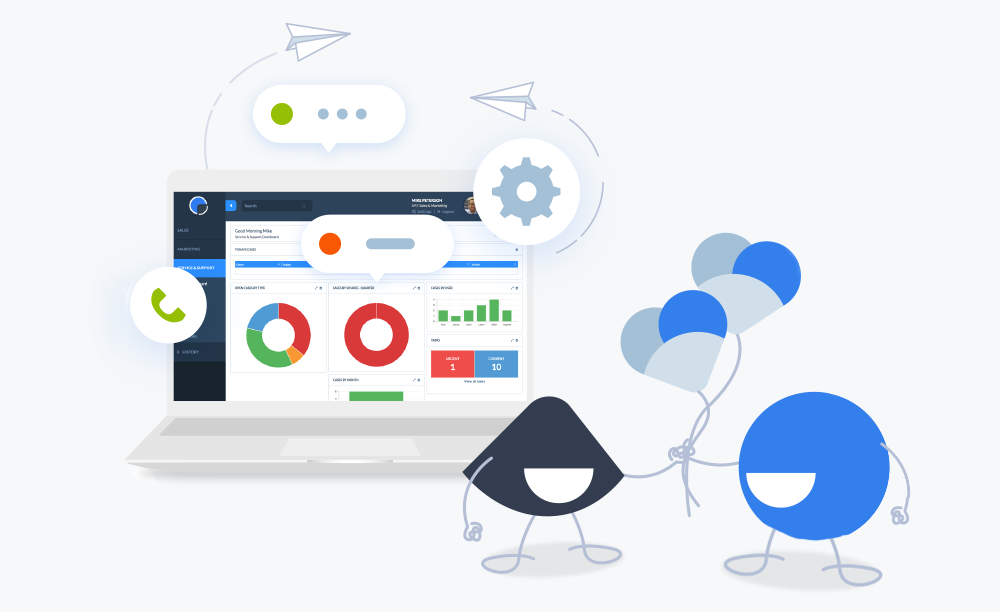 This complete guide to CRM explains the meaning of CRM and examines the benefits and its importance for businesses today. It continues, to show you how to select the best CRM system for your organisation and the features to look out for.
Here's what's included:
Definition Of CRM
CRM stands for Customer Relationship Management and refers to business systems designed to manage your customer and prospect interactions. The aim is to help your business develop longer lasting relationships with customers, drive business growth and increase customer loyalty.
Most commonly used by sales and marketing professionals, a CRM system helps companies streamline their business workflow using Sales Force Automation (SFA), improving efficiency and productivity.
Increasingly, CRM software is used by customer service and support teams to manage their post-sales service.
What Is A CRM System?
A CRM system provides a centralised hub that holds all the data for your business contacts. This might be your customers, prospects, suppliers, press and colleagues. Over time, the system will build up a history of your interactions with each contact. This might include emails, calls, meetings notes and sales. The beauty of this is that everything you need is in one place, giving you clear visibility of your sales pipeline.
The software can also include integrations to other apps and channels, such as your website, digital marketing and accounting software. This lets you create automated workflows, replacing any routine manual processes in your business.
For example, you might use CRM software to capture a new inquiry from your website which initiates an automated sales process. The inquiry would trigger the creation of a new account in the system, create a task for sales to follow up, and send the contact a welcome message.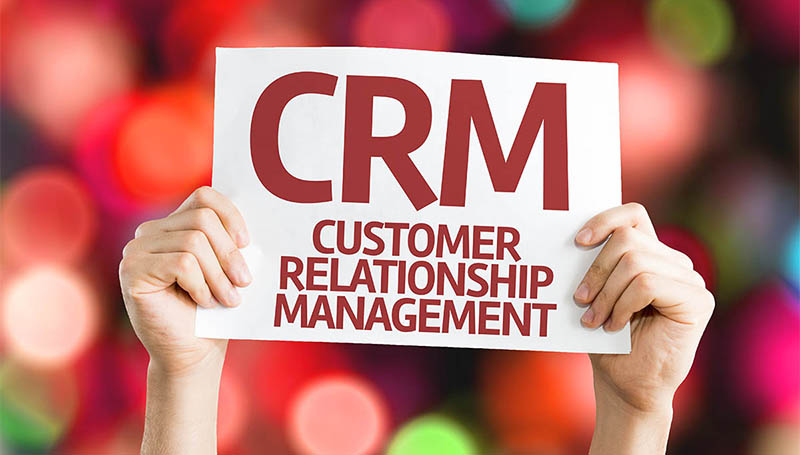 History Of Customer Relationship Management
The term CRM was first coined in the 1990's to describe a system whereby every contact with a customer could be recorded and analysed. A CRM system was the must-have product at the height of the internet bubble in 2000/2001.
However, the peak was followed by a few years of disillusionment as expensive systems failed to deliver the results and meet the raised expectations of the users. This pattern follows the Gartner Group Hype Cycle graph for emerging technologies, showing the traditional pattern of a slow start, followed by unjustified euphoria, down to disillusionment and back to a level of realisable sanity. Which is where we are today!
CRM as a Cloud Service
Originally, all CRM systems were in-house applications, hosted on physical servers within the organisation. Nowadays, they are cloud-based, meaning the app and data are accessed via an internet browser. Cloud CRM is also known as Software-as-a-Service (SaaS) CRM, online CRM and Web CRM.
As new technology is launched the Hype Cycle begins over. Gartner's update for 2018 suggests two key areas of technology where sales leaders can improve their sales execution – Machine Learning and Integration.
Why Is CRM Important?
For many businesses, their CRM isn't just important – it's essential!
To maximise the benefit, you need to build your CRM into your business strategy. It will create structure and organisation for your company that will foster increased efficiency, productivity and profitability.
Although, originally designed for sales teams, the benefits of using a CRM across your whole organisation can be immeasurable. However, its become increasingly important for marketers and for customer service teams managing post-sales communications.
The software gives greater insight of how your business is performing, using the actual sales data to take the guesswork out of business decisions. It provides a complete overview of your customers and their activity, letting you create a truly customer-centric focus that will shape your customer experience strategy.
What Are The Benefits Of CRM?
Having worked hard to collect information about a prospect or customer, sales people can end up with their information held across multiple sources, from sticky notes to call logs. Using a CRM helps brings it all together in a centralised hub. The software will facilitate team collaboration and create efficiency. So there's no duplication of effort, lost messages or forgotten call backs. This leads to more timely communication, enhanced relationships and, essentially, more sales.
The workflow automation looks after much of the manual processes of selling so there's less data input and admin. You can also use automation to prioritise your leads, bringing together your data insights from across your business activity.
A good system will also help you manage your teams, control your data security and support your compliance with data privacy regulations.
CRM Benefits for Your Business
Enhances contact management
Improves customer retention and satisfaction
Advances sales management
Increases efficiency and productivity
Creates organisation and team collaboration
Facilitates accuracy of reporting and sales forecasting
Heightens data insight for marketing and product development
Increases lead to sales metrics
Boosts business growth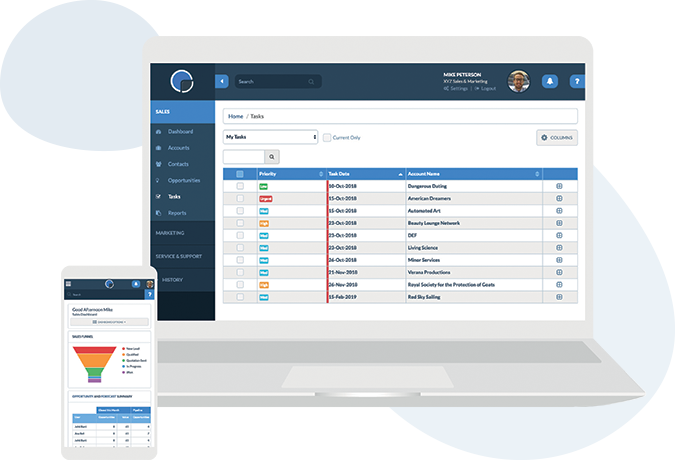 What Does A CRM System Do?
If by now you're thinking this all sounds well and good, but what does a CRM system actually do and what is it used for? Here's a simplified list:
Creates A Customer Centric Focus
Helps you find every customer, contact and communication instantly
Improves post-sales service and support
Increases customer loyalty and retention
Increases Sales And Profitability
Categorises and prioritises leads
Tracks your leads from end to end
Automates your sales process
Manages your tasks and appointments
Creates A Centralised Hub With Everything In One Place
Creates total visibility that puts an end to duplication
Enhances team and cross-team collaboration
Facilitates remote work forces
Streamlines your processes by integrating the other systems you us
Provides Insight And Reporting
Accurate, detailed reports and forecasts
Customer activity insight
Management of marketing ROI
Everyone in your organisation can see all the interactions with a contact in the system including their communications, what they purchased and when, what they paid, plus much, much more. Unless, of course, you want to limit who sees what with user permission levels!
Who Needs CRM Software?
Customer relationship management software is relevant across many business functions and industries. CRM software is most commonly used in the sales, marketing and service desk functions. However, use across other teams and management may also be relevant.
Sales Team
Your sales people will be able to use the CRM to monitor new leads in their sales pipeline, log the calls and meeting notes, set tasks to follow up with customers, create and send quotations and invoices. Running reports and forecasts, sales managers will have real-time visibility of their team's performance against their targets.
Marketing Team
Marketers can integrate your website forms with the system to automatically capture new leads and pass them to your sales team to follow up. They can send automated emails to welcome new customers and monitor their responses.
Running marketing campaigns from a CRM means all the customers' activity is recorded back to the system. This provides insight to their behaviour and ROI analysis.
Service Team
A CRM with an integrated help desk system means you can also monitor your customers' post-sales interactions. Any support tickets raised will be captured back to the customer account so your sales team can be alerted of any potential issues.
Organisations that operate business to business (B2B) are generally the target audience for CRM vendors, but the software can also make a difference for other markets too. Some vendors target business to consumer (B2C) and some offer systems for specific industry sectors, like real-estate, recruitment and even club memberships.
If you're not sure if you need a CRM, our blog Do I need a CRM will help.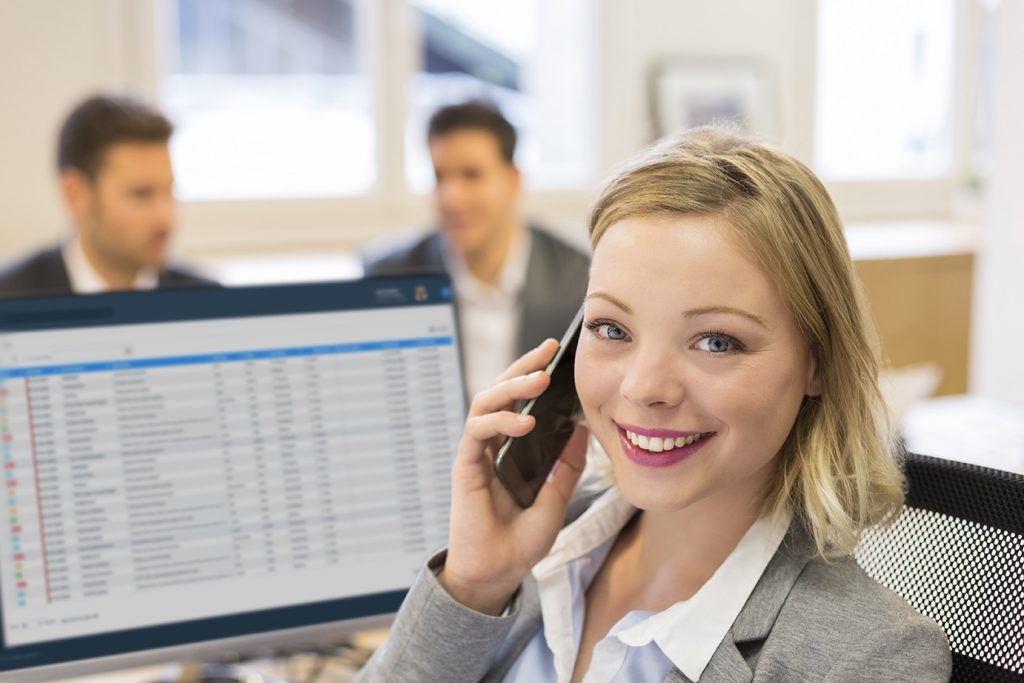 How Do I Select A CRM?
In selecting a CRM be realistic about your IT competence and your needs, as well as how much you want to spend. There'll be a trade-off between ease of use and the features included.
Generally, price is determined by how many users you have, your number of customer records, your storage requirements, and complexity of features. Even if you can afford the best of breed and would like all the features, you don't need to commit all at once.
Most vendors offer a free CRM trial so you can see how the system will work for you and discover how their customer support shapes up!
Understand your Strategy and Objectives
Your selection should reflect your strategy and objectives for the system. These might be to
Help sales people manage and close more opportunities
Give sales managers a complete view of the pipeline, and to automate sales forecasting
Safeguard ownership of the sales pipeline, a key company asset
Make sure that your organisation has a full picture of every sales process
Provide a complete picture of every customer to those that need it within your organisation
Run and track the effectiveness of marketing campaigns
Provide better service for your customers
Know What Success Looks Like
If you're addressing certain pain-points in your organisation, make sure you know what success looks like so you can measure the value of your CRM.
For more help, you might like to download our CRM Buyers Guide.
When's The Right Time to Get A CRM?
The right time to invest in a CRM will vary according to your business and industry. As a rule-of-thumb, if you're handling more prospects that you can remember, you need a CRM system.
In some industry sectors you may be managing thousands of customers with a short sales cycle or multiple repeat sales. With others, you may have just a few hundred contacts but with a lengthy sales cycle that needs careful tracking. In both cases the system will help you track your interactions and monitor customer behaviour. This means you can effectively manage the frequency of your interactions to maximise your sales.
If you're a small business with limited IT support and a limited budget, there are simple CRMs at affordable prices that will fit your needs. Then, as your business grows, you can upgrade to add more features and users. If you're a new business start-up, there's a few free systems available that will include all the features you need to get started.
What Features Should I Look Out For?
The features you need will vary according to your business and, remember, not all CRMs are the same. There are different levels of features from the very basic to those with all the bells and whistles. Price is likely to be a key factor but it's also worth considering which features you really need. A CRM packed with features that you never actually use will be more complicated, more expensive, and is likely to limit user adoption – one of the most cited reasons for CRM failure.
Basic CRM Sales Features
A basic CRM will include contact management and opportunity management. This will let you find your customers and past communications instantly and track your sales leads. However, there are many little extras that can make all the difference to how you use the CRM. For example, look for one that you can customise with your own fields and settings to reflect your sales process.
Email Integration
Ideally, you'll want email integration included. This will automatically capture your emails to and from your contacts, giving a full history of your communication.
Reports
Surprisingly, many small business CRM systems don't include much in the way of reporting, if any. The best systems will include a Sales Forecast report writer as well as a Listing Report writer for ad-hoc activity. If you are unable to unlock the insights of your CRM it becomes nothing more than a contact management system.
Automation
In today's market, even for small businesses, CRM automation is becoming a must have. Automation helps create efficiency and increases productivity by automating your manual processes. Your various actions in the CRM trigger workflows to complete a task according to a set of rules that you define. This might mean triggering the billing process when a sale closes or an email reminder when a warranty date expires.
You can also use automation and integration to pass data between the different systems you use, updating and synchronising your customer information. Here you can use a native integration via the API or you might use an integration platform like Zapier.
Marketing Integration
A CRM with integrated marketing lets you run email campaigns directly from your system and record your contacts' interaction back to their account. Over time, you'll build up valuable information on their behaviour and interests that lets you better meet their needs in the future.
Advantages Of Cloud CRM
As cloud CRM software is hosted and maintained by the vendor, there's no capital costs and no maintenance for the customer. By running thousands of customers' CRM systems, the provider can create great economies of scale. These factors make a cloud-based system very affordable with options to pay monthly or yearly, so there's low financial risk.
The other big advantage is that CRM users can access the system from anywhere via their internet browser. This might be at home, their office, or on the go from their phone.

"When you're a small business working towards growth, each step you take really matters. Really Simple Systems CRM helps us tackle our ever-evolving objectives!"
Ian Hare
Clear Vehicle Data

"Really Simple Systems is key to our businesses growth. The marketing feature is amazing and we love how easy it is to customise how everything displays in the CRM!"
Jonny Towers
BloomSmith

"I highly recommend Really Simple Systems to small businesses who need the ability to easily follow up with numerous prospects. Its actually fun to use!"
Ann Parvin
Southern Comfort Homes

"By far the best part about Really Simple Systems is the team - they're very focused on helping us with what we want and looking at creative ways to get the job done."
Matt Jessop
British Red Cross

"The CRM has become a very important part of our business. It has streamlined the way we work, improved our non-verbal communication and ensured visibility across all accounts."
Richard Perry
JC Payne

"We wanted something that we could learn quickly and was affordable. It was also very important for us that Really Simple Systems was 100% committed to GDPR compliance."
Bob Barrett
CyberTech Digital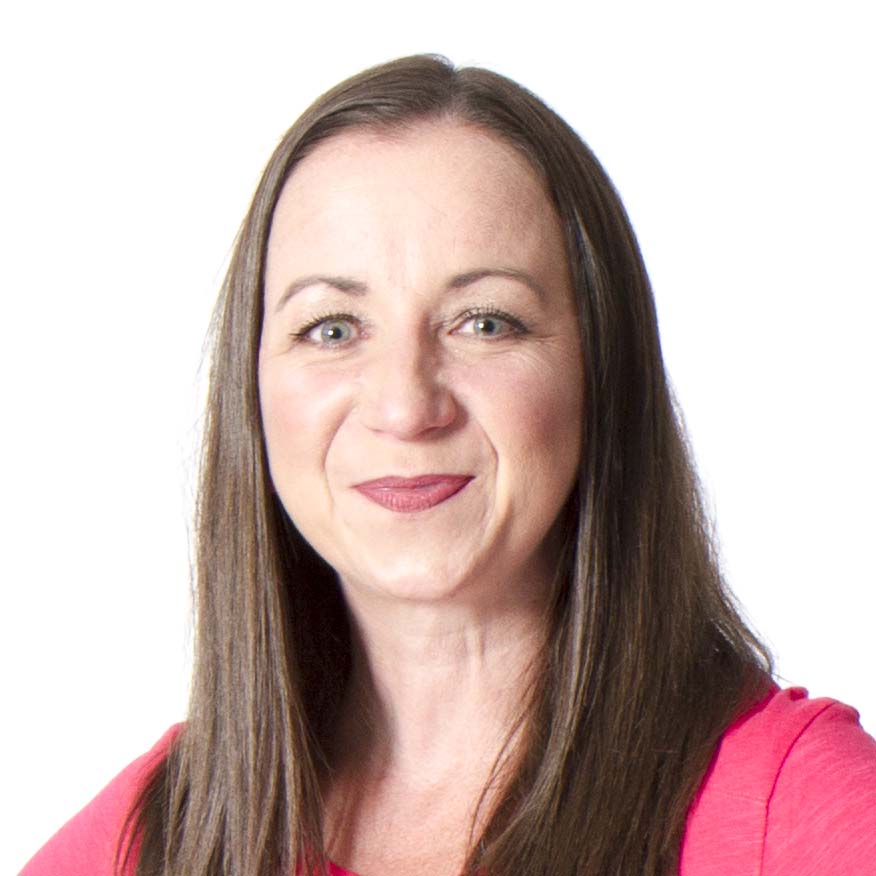 "The quick support and help from the team at Really Simple Systems is brilliant whether it be by Skype, telephone or email. I can't recommend the product, and the people, enough!"
Elaine Hamilton
Hello Scotland

"Being able to see who has opened and clicked through on emails means we can easily see who to follow up. The all-in-one system makes it straightforward to use and view information."
Jacquie Burnside
Destination North Coast NSW
"The CRM has been able to adapt to fit us rather than us adapt to fit it. People always dislike change and to be given an intuitive system makes adoption and use so much easier for my staff."
Mike Smithson
The Property Jungle