How to Clear the Cache in Your Web Browser
Understand what is the cache and the steps needed to clear the cache in the various popular web browsers.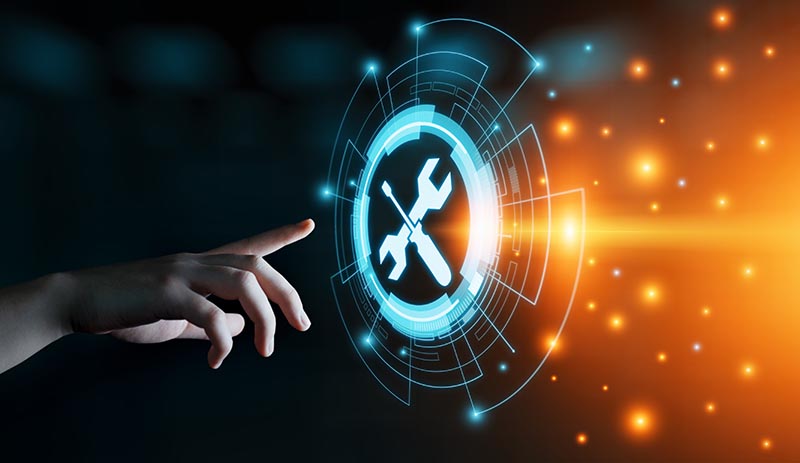 What is the cache and how do I clear it?
No doubt at some point you will have encountered a problem with a website when someone has suggested the remedy is to "clear the cache". But what is the cache and how do you clear it?
The cache (pronounced "cash") is a software component that helps speed up the delivery of the web page you are accessing by temporarily storing the data locally. Your browser cache stores data so that future requests for the same data can be accessed without the need to repeatedly download it. For example, this might be background images, logos, fonts, files, and the technical code that makes up a web page, like JavaScript. It speeds up your browser and saves your bandwidth.
Sometimes though, particularly if you regularly access the same websites, there can be a difference between the cached version on your computer and the latest version you are accessing. This can lead to a conflict between the two versions and may cause problems with the delivery. Clearing your cache deletes the stored data and resets the temporary storage on your computer. Regardless of whether you are experiencing any issues, it is also good practice to clear your cache from time to time.
This guide takes you through the steps you need to take to clear your cache in the various popular browsers. You'll note that you can use keyboard shortcuts to go direct to the cache settings or you can access them from your browser menu.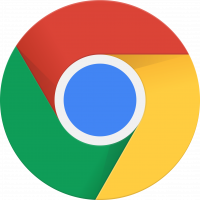 How to Clear the Cache in Google Chrome
Clear your browser data via the keyboard shortcut in Chrome
1: Simultaneously click the keys [Ctrl], [Shift] and [Del]. This will open the "Clear browsing data" settings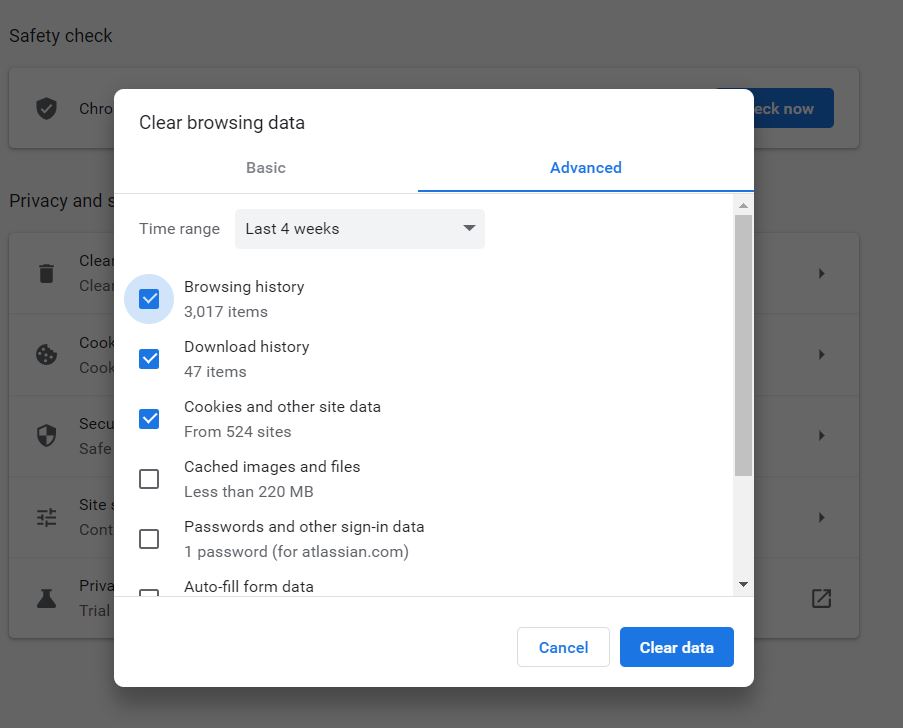 2: You can select from either the "Basic" or "Advanced" options according to the level of data you want to clear
3: In "Time range" set the period to clear, for example "Last 4 weeks"
4: Use the checkboxes to select what data you want to clear, for example "Browsing history"
5: Then click "Clear data"
Clear your browser data via the via the menu in Chrome
1: Click the Chrome menu icon (the 3 vertical dots in the top right of your screen)
2: On the left-hand menu, click to open 'Privacy and Security' then expand the section "Clear browsing data"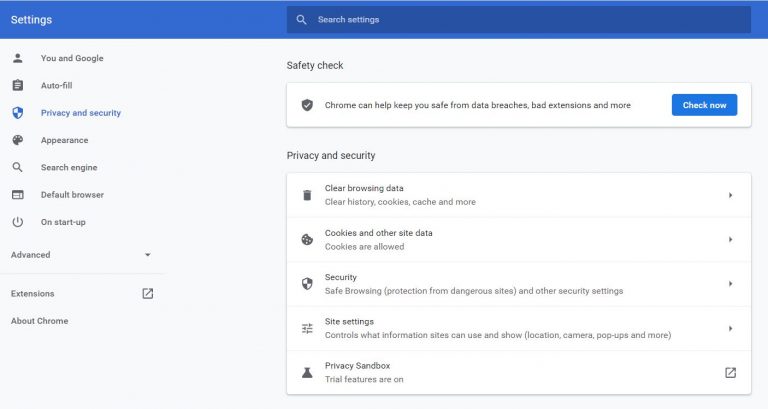 3: Select the "Advanced" tab and in the 'Time range' box set it to "All Time" to clear all the saved data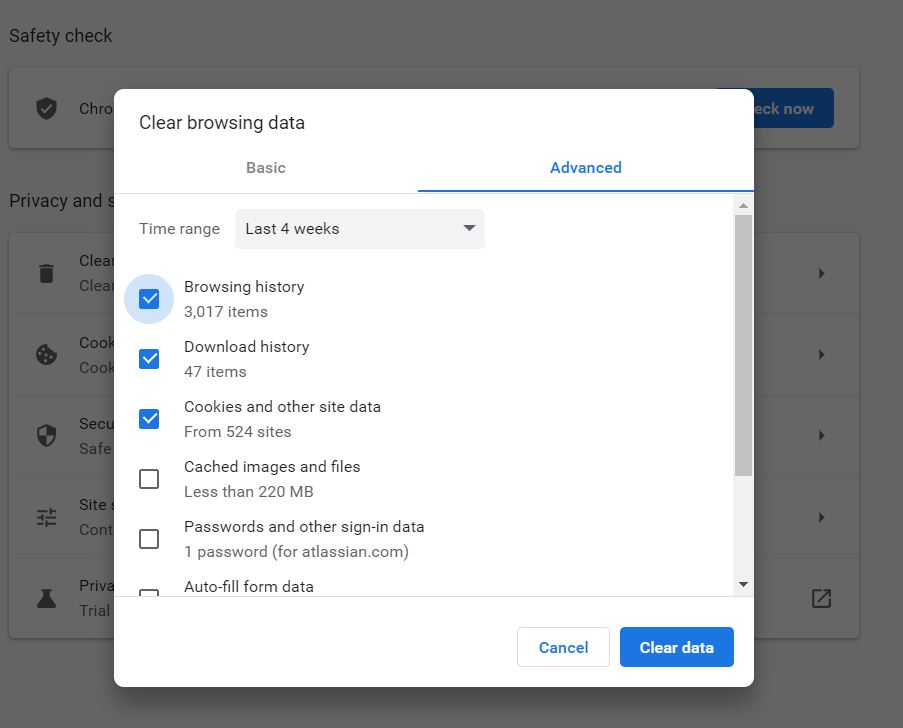 4: Use the checkboxes to select what data you want to clear, for example "Browsing history"
5: Then click "Clear data"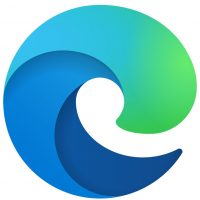 How to Clear the Cache in Microsoft Edge
Clear your browser data via the keyboard shortcut in Edge
1: Simultaneously click the keys [Ctrl], [Shift] and [Del]. This will open a new window in your browser open at the "Clear browsing data" option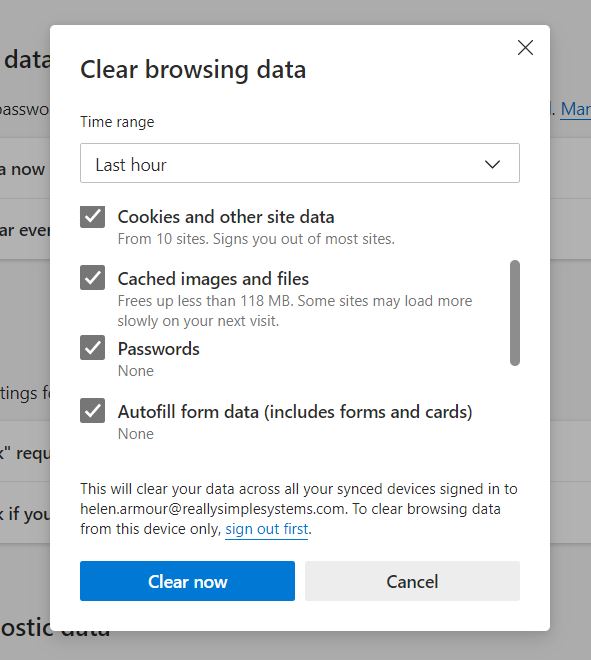 2: In the "Time range" select the period over which you wish to clear the cache, for example, "All time"
3: Use the checkboxes to select the data browser history you wish to delete
4: Click "Clear now"
Clear your browser data via the via the menu in Edge
1: In Edge, click on the "Settings " icon (3 horizontal dots in the top right of your screen)
2: Click on Settings cog icon
3: From the left-hand menu, select "Privacy, search, and services" and scroll down to "Clear browsing data" and click "Choose what to clear"

4: In the "Time range" box select the period over which you wish to clear the cache, for example, "All time"
5: Use the checkboxes to select the data browser history you wish to delete
6: Click "Clear now"
Discover if our CRM is right for You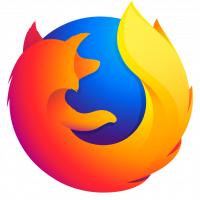 How to Clear the Cache in Firefox
Clear your browser data via the keyboard shortcut in Firefox
1: Simultaneously click the keys [Ctrl], [Shift] and [Del]. This will open the "clear recent history" settings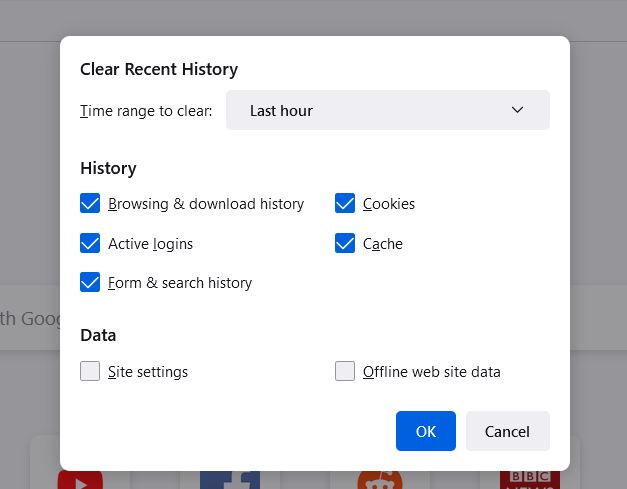 2: In "Time range to clear" set the period you want to clear, for example "Everything"
3: Use the checkboxes to select what data you want to clear, for example "Browsing and download history"
4: Then click OK
Clear your browser data via the via the menu in Firefox
1: Click on the Firefox menu icon (3 horizontal lines in the top right of your screen)
2: From the menu click on "History"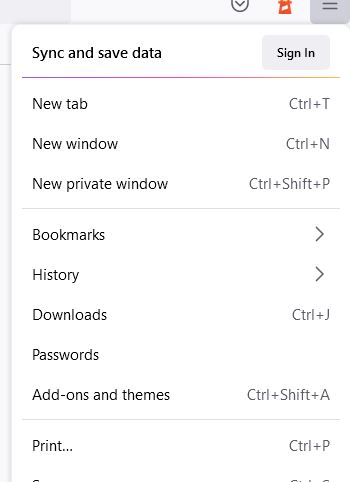 3: The select "Clear recent history…" this will open the "clear recent history" settings
4: In "Time range to clear" set the period you want to clear, for example "Everything"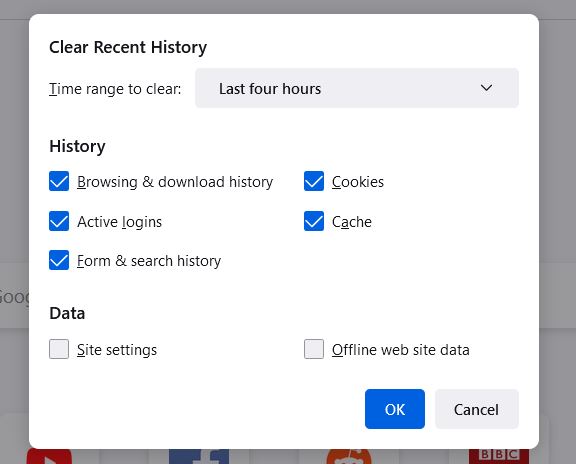 5: Use the checkboxes to select what data you want to clear, for example "Browsing and download history"
6: Then click OK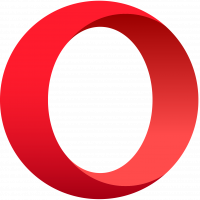 How to Clear the Cache in Opera
Clear your browser data via the keyboard shortcut in Opera
1: Simultaneously click the keys [Ctrl], [Shift] and [Del]. This will open the "clear browsing data" settings
2: You can select from either the "Basic" or "Advanced" options according to the level of data you want to clear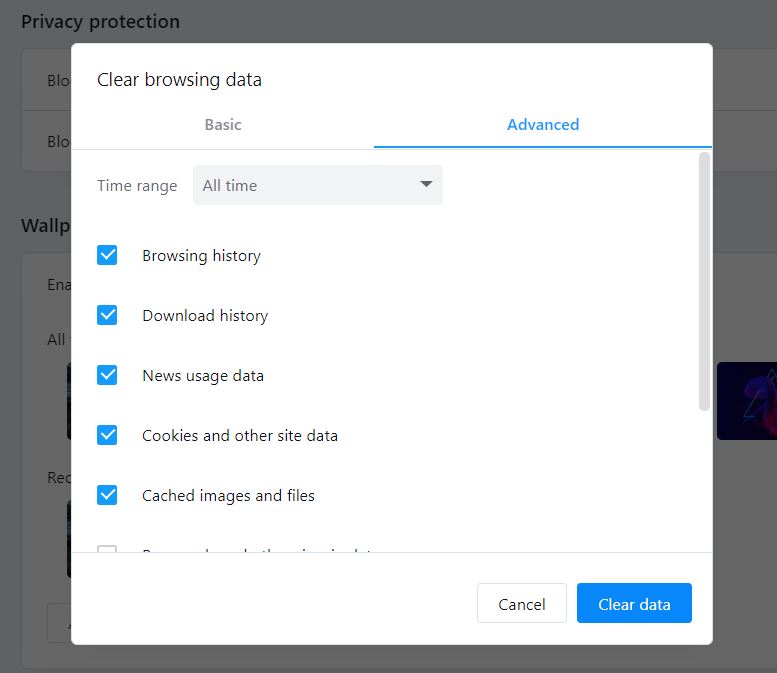 3: In "Time range" set the period to clear, for example "Last 4 weeks"
4: Use the checkboxes to select what data you want to clear, for example "Browsing history"
5: Then click "Clear data"
Clear your browser data via the via the menu in Opera
1: Click the red Opera menu button in the upper-left corner of the screen
2: Select "Settings" and then from the "Advanced" menu click "Data and security"
3: Click the section "Clear browsing data"

4: You can select from either the "Basic" or "Advanced" options according to the level of data you want to clear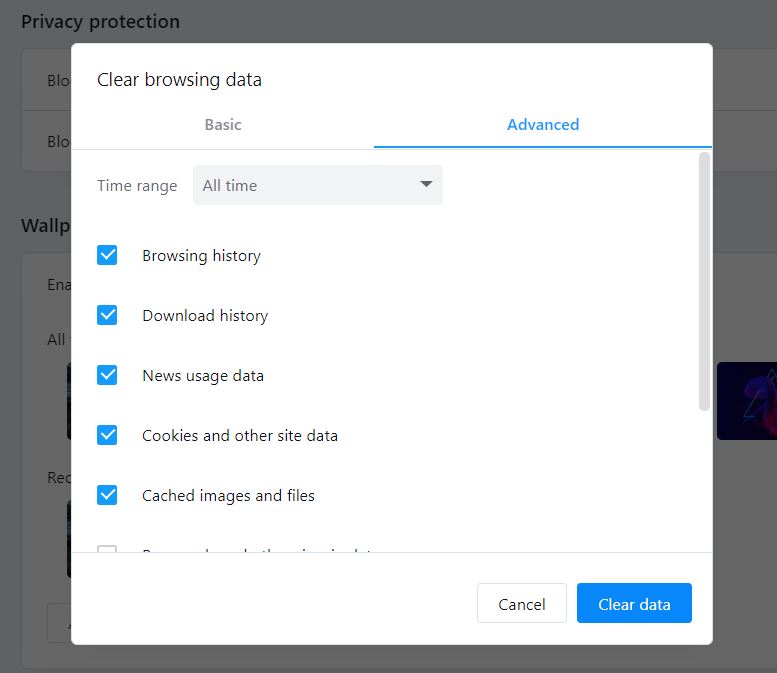 5: In "Time range" set the period to clear, for example "Last 4 weeks"
6: Use the checkboxes to select what data you want to clear, for example "Browsing history"
7: Then click "Clear data"