The Amerityre Corporation is a developer of polyurethane foam and polyurethane elastomer formulations which are used to manufacture world-class flat-free tyres. Originally formed under the name American Tire Company in 1996, the organisation is known for its outstanding and unique tyre formulations.
Today Amerityre is based in Nevada, USA, and is the largest manufacturer of polyurethane flat-free tyres in the USA, producing tyres for the bicycle, mobility, agricultural, lawn and garden, and industrial markets.
As a market leader, the company has developed innovative products utilising its proprietary polyurethane closed cell foam and polyurethane elastomer formulations.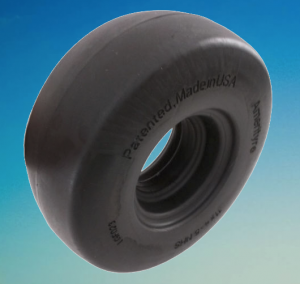 Its tyres have higher load bearing capability, resist UV and ozone damage, are non-marking and contain no toxic materials. The tyres require less energy to produce than standard rubber tyres, making it the ultimate "Green Tyre". Once produced, the tyres emit no noxious fumes which are commonly found in tyres manufactured by their competitors.
The organisation's mission is to provide unique tyre solutions that successfully address the needs of customers by providing products and services that cannot be matched by competitors, either in the USA or worldwide.
Our company was looking for a CRM with simple features to store and track customer information and activities. Really Simple Systems has provided us with a platform to do just that.
Jody Hudson, Amerityre
From Spreadsheets to CRM
Amerityre had been using spreadsheets to manage their key customer information for their day to day business. Unfortunately, this was not sufficiently comprehensive to handle their requirements, which led to disorganisation within the company.
With experience using a CRM with a previous employer, Regional Account Manager, Jody Hudson, identified the issues and requested the company implement a versatile CRM system to properly manage their customer data and tasks. Jody explained "I was used to working with a CRM. Amerityre had never used one but when I explained the benefits the management agreed to implement one."
After researching online, Amerityre discovered Really Simple Systems, selecting it above other systems due to it meeting their organisational requirements, its ease of use and for offering great value for money.
Responsive Customer Support
In trialling the CRM, Jody was impressed with the Really Simple Systems' Customer Support commenting that the "team was excellent and very responsive". She also added that she'd found learning to use the CRM system simple due to availability of online tutorials and regular live webinars.
Really Simple Systems CRM is now used to manage their daily business needs, such as tracking activities, keeping on top of upcoming tasks and managing their customer accounts. Since implementation, Amerityre has seen significant improvements to its business organisation and workflows. It has worked so well for the company that Jody stated, "I will be recommending Really Simple Systems to other business owners that I am in contact with."
Operational Resolution
Using Really Simple Systems has resolved Amerityre organisational issues and improved how the team manages their daily business.
"Our company was looking for a CRM with simple features to store and track customer information and activities. Really Simple Systems has provided us with a platform to do just that. Best of all, we've been able to customise the features to meet our needs for a very low cost."