Business Strategy
• Aug 31st, 2022 • Michael Rarick
How To Handle Change Management When Switching CRMs
Transitioning to a new CRM is complex. Discover change management principles and strategies to ensure a successful CRM implementation.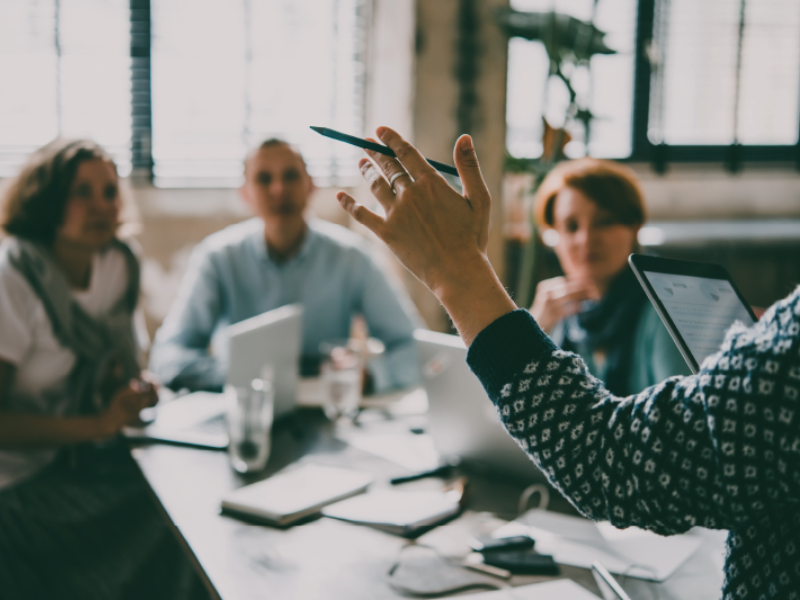 Picture this: you've found an amazing Customer Relationship Management (CRM) system that can help you build better relationships, improve productivity, and increase conversions. 
You're brimming with excitement until you realize that convincing stakeholders to make the switch is often painful and can hinder the best intentions. Employees typically see organizational changes as the few (managers) imposing their will on the many (employees). On top of this, changes and unknowns increase anxiety and uncertainty for stakeholders who aren't in the know. 
The solution? Approaching CRM change management through crucial principles and using effective strategies to manage the process. 
This article will cover a brief overview of change management and dive deeper into four principles and seven strategies you can use to support a successful CRM switch.
What Is Change Management?
Change management refers to frameworks for managing stakeholders during company changes. These frameworks rely on theories from psychology, engineering, behavioural science, and other disciplines to ensure smooth transitions. 
Regardless of the framework you choose, the main goals of change management are to: 
Equip stakeholders with the information and tools they need to be comfortable.
Effectively communicate changes — for example, sharing the benefits and schedule of the transition.
Understand the unique reasons why individuals embrace change.
Change management focuses on people during transitions because, as the end users, they determine the success of your new CRM system. You could have the best CRM platform on the market, but your Return On Investment (ROI) will suffer if stakeholders don't use it.
Why Good Change Management Benefits You When Switching CRMs
Change management is a powerful tool to support new CRM implementation. When done well, it can improve the success of your organization, reduce stress, and help you outperform your competitors.
Here's how: 
Fatigue reduction: Gartner researchers found that up to 73% of employees experience medium to high-stress levels during company changes. However, change management frameworks can help you identify fatigue contributors so you can combat them. For example, you can reduce anxiety-related fatigue with an effective communication plan.
An improved success rate. McKinsey found that companies that included their employees in early change planning reached their goals 75% of the time. Including employees in early discussions (a common strategy) makes them feel heard, increasing their openness to change.
Increased stakeholder comfort. Roughly 62% of employees avoid leaving their comfort zones. While you can't change peoples' habits, change management strategies help stakeholders understand and recognize good changes — for example, using a powerful new CRM.
Better business performance. Change management strategies allow companies to pivot when they identify growth opportunities without disrupting productivity or increasing employee anxiety. This fact enables companies to perform 2.5x better financially than competitors and makes them 6x more likely to meet or exceed their goals.
The 4 Change Management Principles
There are many change management models, from Lewin's to McKinsey's 7-S model. While they vary in their methods, most models share four fundamental principles.
1. Understand Change
Understanding the change helps you better plan for and promote it to stakeholders, leading to your desired outcome. 
Here are some questions to ask yourself: 
What is the scope of the change?
What are the reasons for making the change? What's wrong with your current CRM system?
How will it impact stakeholders?
How can employees prepare themselves?
How soon will the company change CRMs?
Knowing these answers will help you persuade cautious employees and ensure you take the proper steps to reach your goal.
2. Plan Change
The specifics of your change management process will differ from other organizations, but some factors to consider include:
Who will be the primary sponsor? This person is the leader who authorizes and is responsible for the change. New CRM implementation is a high-risk change, so your sponsor will likely be a senior executive. It's vital that the sponsor understands the change, believes in it, and promotes its benefits to others.
Who will help you implement the change? You'll need several people to help implement a CRM software migration. For example, you could have someone from each department ensure their team understands and is onboard with the change.
What milestones will you need to hit? Transitioning from your existing CRM system is complex, so you must break it into achievable steps. Breaking it down helps you communicate clearly with stakeholders and highlights potential adjustments, smoothing the change.
How will you increase buy-in? Without buy-in, even the most beneficial changes won't bring your desired results. Try directly addressing employee concerns and showing employees how they'll benefit from the change.
3. Implement Change
While planning is vital, you'll need to implement your plan to see a successful change. Your plan will determine your tasks, but in general, implementation requires you to:
Choose your primary sponsor.
Delegate responsibility where necessary.
Start communicating the CRM change with stakeholders.
Create training and support material for each employee.
Choose metrics that you'll use to determine the success of the change.
Launch your buy-in campaign.
4. Communicate Change
Communication is crucial in change management because if people don't understand why a change is happening, they're more likely to object to it. 
Some ways to effectively communicate the change include: 
Explain the change and show individuals how it is relevant to them.
Link the transition to your company's mission and goals to give it a higher purpose.
Collate stakeholder concerns, then share why having those worries is unnecessary.
Above all else, every employee should understand why, when, and how a change will happen and how it will impact them. 
7 Change Management Strategies To Use When Switching CRMs
Now that you know the bigger picture behind change management frameworks, let's dive deeper into seven strategies for a successful transition.
1. Elect A Change Champion
A change champion is someone who believes in the CRM change and does all they can to promote and support it. Think of a change champion as a primary sponsor minus the authority to approve changes and the responsibility to ensure its success. 
A change champion may volunteer, or you can select them yourself. Managers often give this role to high-performing employees, allowing them to gain extra skills and take on additional responsibility. 
Your chosen change champion should:
Have the respect of fellow employees, so they trust the champion's opinion.
Understand technology and CRMs so they can answer questions without confusing others.
Understand the company's goals and reason for the switch so they can support implementation.
Not be afraid to promote their opinion of the change, even in the face of objecting stakeholders.
2. Decide On A New CRM System As A Team
Involving the whole team in the implementation process increases commitment to the change and ensures your organization uses a CRM that matches its needs. 
You can do this in a few ways: 
Have stakeholders vote on features they'd like to see in the new CRM — for example, marketing integrations. Then a manager or the management team can choose based on the best fit.
Have stakeholders vote on their favorite CRM from choices that you shortlist.
Host an anonymous discussion via a shared document to uncover the CRMs your team thinks would be a good fit. Allow a second round for stakeholders to analyze ideas, then have everyone vote on any CRMs mentioned in the document.
Whichever method you choose, you mustn't let choices be driven solely by opinions of senior staff, 'experts,' or emphatic employees as stakeholders may follow along to avoid conflict. 
If you need extra help, we have a guide on choosing the right CRM.
3. Set Goals For The CRM Implementation
Transitioning to a new CRM system is a significant task, so you must break it into manageable goals. Having smaller goals can also help you better manage your organization's time and ensure you're on track for the overarching goal. 
It's a good idea to break your goals into two categories: 
Progress goals — a.k.a. the steps you need to take to reach your desired outcome. For example, you want to finish your implementation plan one week from today. 

Success goals. Here, you'll need to choose metrics that will determine the success of the change. For example, you can consider user adoption, CRM engagement, functionality, customizability, usage, helpdesk calls, etc. 
Regardless of your goal, it's a good idea to use an effective framework to create it, such as the SMART goal model. 
4. Delegate Responsibilities So Everyone Contributes
No matter how small, employee involvement and contributions increase engagement levels and allow you to focus on other concerns. 
Besides your primary sponsor and change champion, you'll also want to appoint some change agents. Like the other roles, your agents should be onboard with the change and have the respect of fellow employees. 
For example, you could appoint an agent from each department to be the main point of call for any customer relationship management concerns. These agents will need to undergo specialized training to become subject matter experts so they can support team members.
When delegating your tasks, consider following a framework like the one below from BetterUp.
5. Conduct Training Sessions After The Transition
Since a lack of knowledge is a significant cause of anxiety for stakeholders, providing ongoing CRM training is vital. Plus, trying to teach everything about the software at once is ineffective for long-term learning. 
The solution? Schedule regular training sessions and provide self-serve resources for people who need quick answers. 
Some methods of training include: 
Short video courses on different aspects of the new CRM platform.
An email covering weekly power-user tips or new ways to use the software.
Group sessions where employees complete tasks that translate to their daily work.
Provide CRM resources for employees to read over.
Above all, training sessions must focus on the employee experience rather than simply delivering the training. You also want to measure understanding so you can be confident in employee performance. 
On top of improving CRM use, regular training keeps employees engaged and fosters a tight-knit team culture.
6. Plan Your CRM Transition
Planning is a vital principle of change management and an essential part of a successful CRM transition. 
Here's what a successful CRM implementation plan includes:
The go-live date for the new CRM.
Organizational goals for the change.
Your chosen sponsor, champion, and agents.
A timeline with key milestones.
Your communication strategy.
Considerations for cleaning existing data and migrating it to the new CRM.
A schedule for team CRM training.
Testing CRM integrations.
7. Create A Contingency Plan
Whether you're part of a small or large organization, switching CRM providers is often complex. That's why you must have a contingency plan — a Plan B — for navigating potential roadblocks. 
Here's how: 
Identify what will trigger your plan. Think of all the scenarios that will force you to abandon your original plan. For example, you could have a stakeholder fall ill or quit their role. Note the most probable triggers, as these are the ones you'll need to address.
Decide on solutions. For each probable trigger, brainstorm solutions with key stakeholders. If the organization has had a similar disruption before, ensure you talk to whoever solved the problem. Ask them what they did, what worked, and what they could have done differently in hindsight.
Inform key stakeholders. Ensure key stakeholders are aware of and understand their role in the contingency plan. Usually, these people will be your sponsor, champion, and agents — or substitutes in case your original choices aren't available.
Discover How Really Simple Systems Can Help
Why ReallySimpleSystems Should Be Your New CRM
CRM software is a vital part of many organizations' daily operations, so switching platforms can make stakeholders anxious, disrupt productivity, and decrease revenue during the changeover. 
But if you follow the change management principles and strategies above, you're sure to win over stakeholders and ensure a smooth transition. 
The real secret to successful change management, though, is to choose the right CRM. The right CRM helps your organization: 
Build lasting relationships.
Become more efficient and productive.
Close more deals and enjoy more revenue.
Additionally, it helps you do these things through a simple yet powerful system. 
Want to take your B2B relationships to the next level? Sign up for a free trial of ReallySimpleSystems to discover the power of a CRM that helps you work smarter.