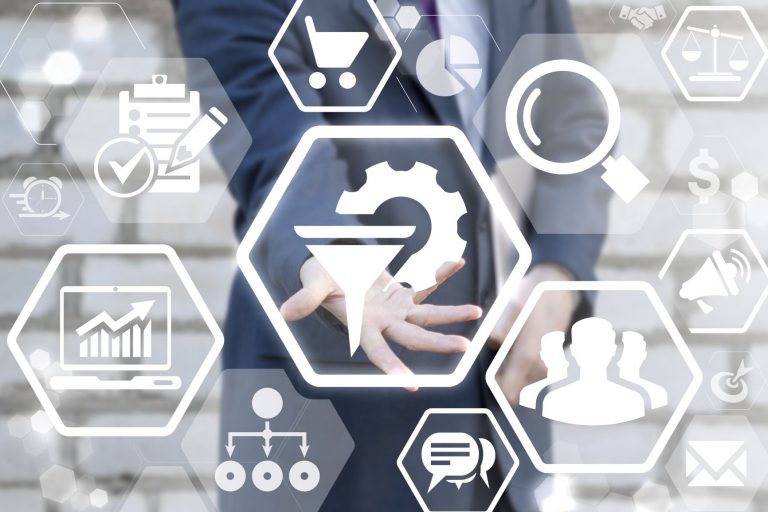 Best CRM Systems For Business Management
When it comes to managing your growing business, you need software that goes above and beyond the capabilities of Excel spreadsheets.
A customer relationship management (CRM) system becomes an essential tool, letting you handle everything you need from one location.
CRM software creates efficiency in your day to day operations by monitoring how you interact with your customers, manage tasks, and by making key data easily accessible.
Getting set up with one of the best CRM software solutions on the market leads to an efficient, organised business where you'll never miss another sale. You might simply be tracking your customer interactions or managing your sales pipeline from initial enquiry through to sale.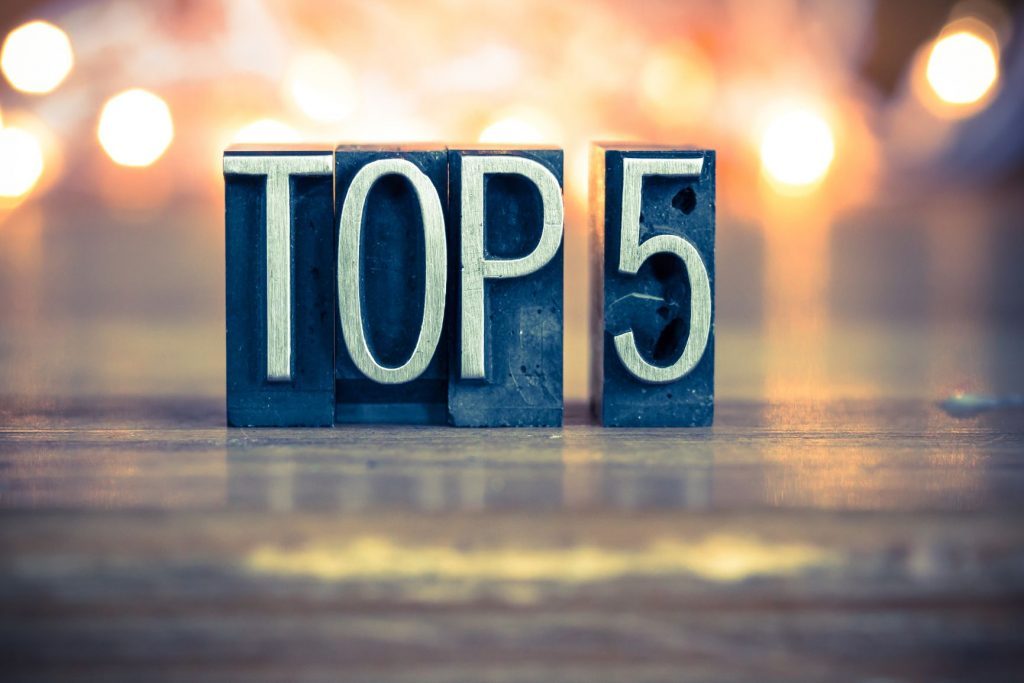 More Than Just Sales Software
CRM systems aren't just about tracking and maintaining contact information. While many businesses thinks of CRM software as a sales tool, many systems now offer much more.
Although most CRM systems include all the basics, you can go beyond this by tapping into additional integrated features. For example, a CRM with integrated marketing lets you segment your customer base, send email campaigns and monitor their engagement. An integrated customer service app means you can manage your customer support from the CRM and record everything back to the customer record.
Some CRM systems offer more specialised integrations, like project management, that again are useful in keeping all your communication and activities in one place.
Selecting the best CRM software for your business can be a minefield.
In this article, I've listed my top five CRM systems for 2022, their key features, support, and basic cost, giving you a starting point to finding the right CRM system for your business.
Each of the 5 top CRM systems reviewed offer a choice of packages from the very basic upwards. The reviews are based on each system's trial, recommended or featured plan.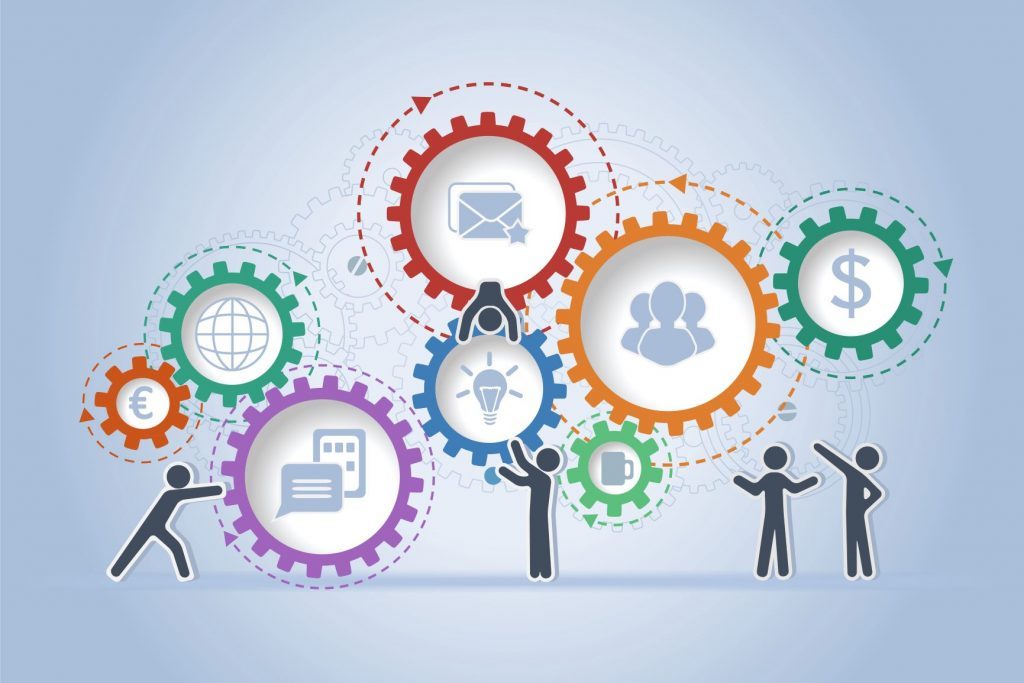 1. Really Simple Systems CRM
Really Simple Systems CRM software includes everything you need to manage your sales and marketing in an all-in-one system. The CRM is primarily designed for small and medium-sized businesses operating B2B. It's easy to set up, and it only takes minutes to learn, while not compromising on quality.
What's included in Really Simple Systems CRM?
The 14-day trial uses the Professional plan with the marketing tool activated. This version of the software helps users work smarter, allowing the ability to manage and track leads and customer contact.
With the integrated Marketing tool, you can capture leads from your website, build marketing campaigns and send newsletters directly from the CRM system. There's no need for a separate emailing product as everything you need is in one place. Less promoted, is an optional service support tool that lets you manage your customer support cases and record the activity to the CRM record.
The Professional plan starts at US$30/UK£20 per user per month and key features include two-way email integration, custom settings, user permission levels and quotations.
Easy to use interface
Free customer support
Integrated marketing
A plus for Really Simple Systems is that it is fully compliant with the EU's General Data Protection Regulation (GDPR) if that is important to your organisation.
The CRM system's latest update allows integration with Zapier. This means that the CRM is able to work with thousands of business applications.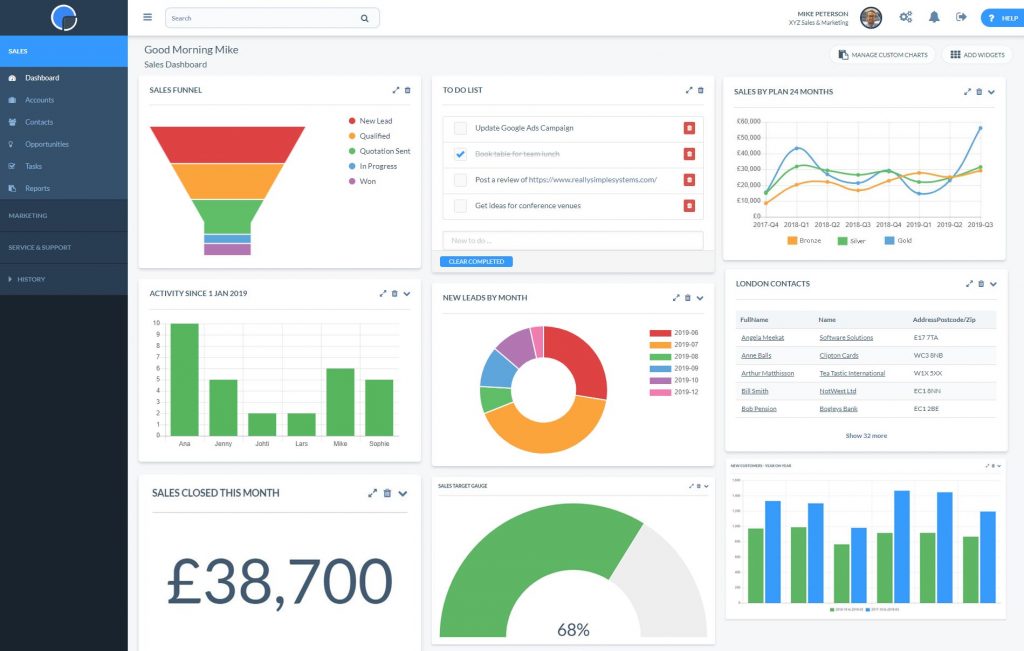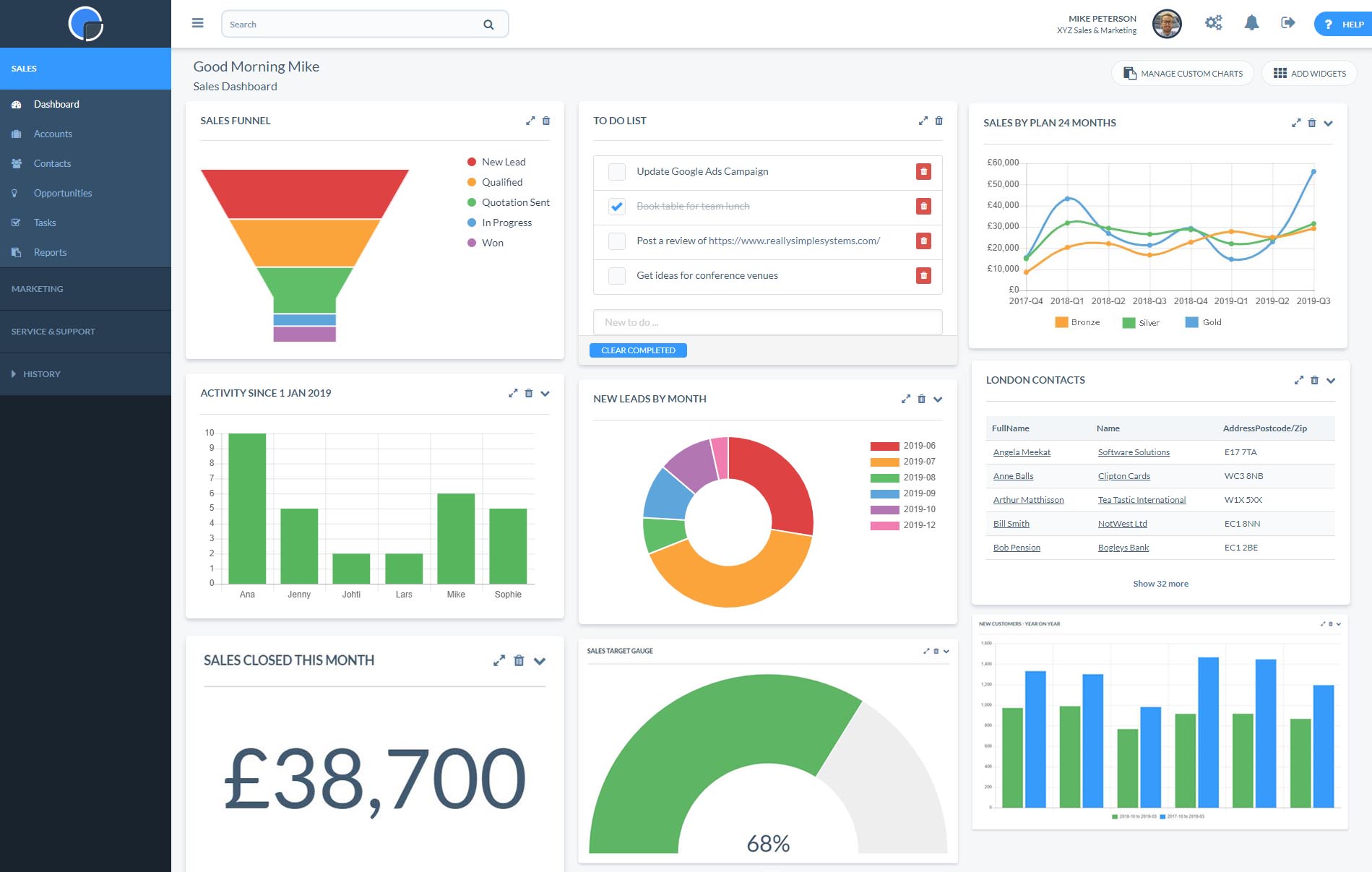 Really Simple Systems CRM Support
As mentioned above, and as the name suggests, Really Simple Systems is really easy to use. There's a wealth of resources to help you get started including step-by-step guides, webinars and tutorial videos. It is the only CRM that has pull out help drawers in each page of the CRM system which provide quick tips and advice. Really Simple Systems also provides a dedicated support hub, live online chat, and free phone support. Reviews of the CRM highlight the systems support as above and beyond its competition.
It is relatively easy to grasp the way Really Simple Systems works and most of the functionalities are intuitive. What I like the most about Really Simple Systems is their supreme customer support service.
When you sign up for the CRM system, an account manager will contact you and you can organise a call to discuss your business requirements and get a demo of the system.
Summary
Really Simple Systems is a simple yet powerful CRM system that provides everything a small or medium sized business needs to run their sales and marketing.
2. Pipedrive
Pipedrive is a dedicated sales management tool. With no optional modules for marketing, project management etc available. According to the Pipedrive website its CRM system is built for small teams with intricate or lengthy sales processes.
What does Pipedrive's CRM include?
When you sign up for the CRM system, you start on the 'Gold' plan which allows for email tracking, creating a product catalogue, workflow automation and custom permissions across your sales team. It costs from US$29/UK£24.20 per user per month and key features include:
A sales funnel which is easy to use to use and manage
A mobile app to make using the software on different devices easier
Sales reporting
The major drawback for Pipedrive is that the CRM system doesn't offer much CRM functionality outside of sales management.  This drawback is reinforced by their customer reviews.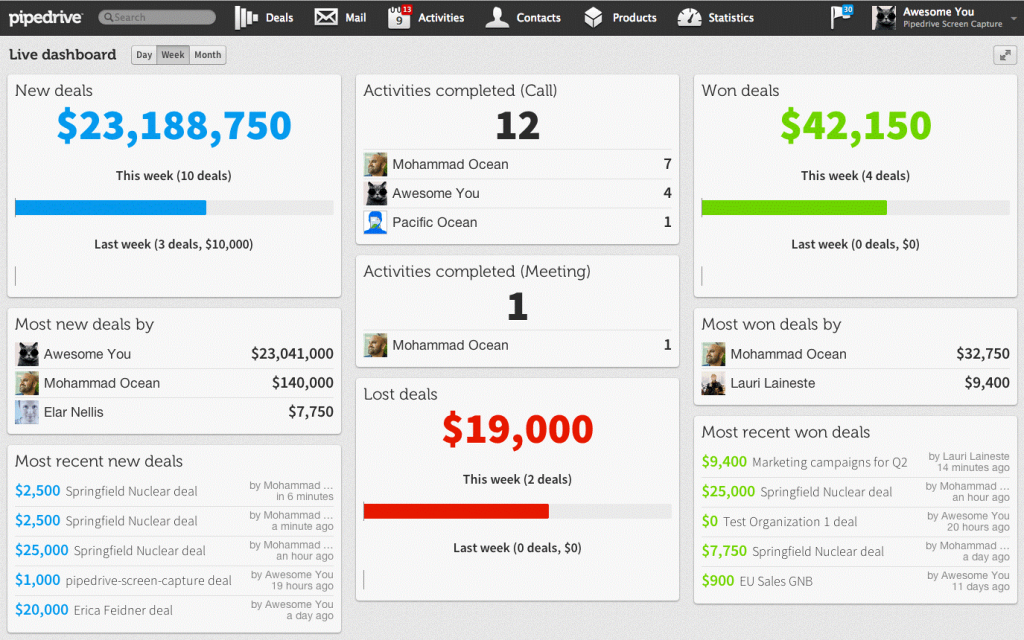 I think the price point is a bit high for the value it offers.
Pipedrive's Support
If you need support, Pipedrive offers a few options:
The first option is to search their resources webpage for blogs, tips, and case studies. There is also a support centre where you'll find videos, webinars and tutorial guides and a live chat window.
Summary
Overall Pipedrive offers a reasonably priced, sales focused CRM system but there's no telephone support even with the top-level Platinum plan.
3. Zoho
Zoho CRM is one of the larger organisations in the CRM market and is part of the Zoho suite of business management tools. The emphasis is on ease of use, targeting companies of all sizes.
As well as integrating with the other Zoho products, Zoho CRM integrates with many third-party applications.
What does Zoho's CRM include?
The plan you're automatically enrolled into is Zoho's 'Enterprise' plan. This includes multi-user portals, territory management features, and custom modules and buttons.  It costs from USD$35/UK£30 per user per month and key features include:
An app that scans business cards and allows you to import data from social media platforms
The CRM hosts an integration market place with numerous applications
Provides an AI assistant system called 'Zia'
One of the drawbacks is that Zoho Premium includes only 1 GB of storage. If you need extra document storage, there is an extra charge per month for each 5GBs you require.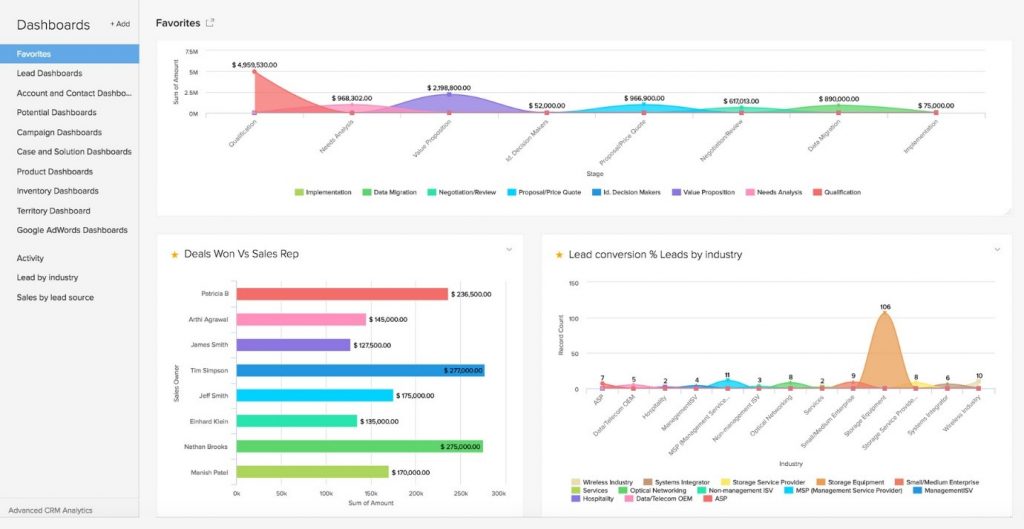 Zoho doesn't offer much free support to help your business get set up on the CRM system. However, they do offer webinars, documentation and training videos to self-learn. To contact Zoho support directly, the only option is to submit a support ticket via email and wait for a response. For advanced training, the sessions start at US$699/UK£549 per user.
Support is very, very slow and disorienting. Does not complete work on a ticket, and conversations can drop.
Summary
Zoho CRM is a good all-rounder with plenty of integrations and social media support, however, unlike its competitors in this list, their training and support can come at a high cost.
It's also worth noting that customer reviews of Zoho are not very complementary of their support, saying it takes a long time to get a response and not very helpful.
4. Insightly
Although Insightly has been around for nearly 10 years, their presence has only been felt in the market since 2016 due to $50 million venture capital funding.
Insightly has recently included a project management module in the standard product though customers comment that it is poor and lacking many basic features.
What does Insightly CRM include?
The standard plan is the 'Professional', at US$49/UK£37.50 per user per month, which provides customisation options, MailChimp integration, and dynamic layout rules. Highlighted features include:
A Project management 'command centre'. A section of the CRM that displays where a project is along the company pipeline
Segmentation and organisation between, Contacts, Organisations, Leads and Opportunities
Dedicated app on both Android and IOS
Insightly's main drawback is that its price plans are significantly more expensive than its competitors.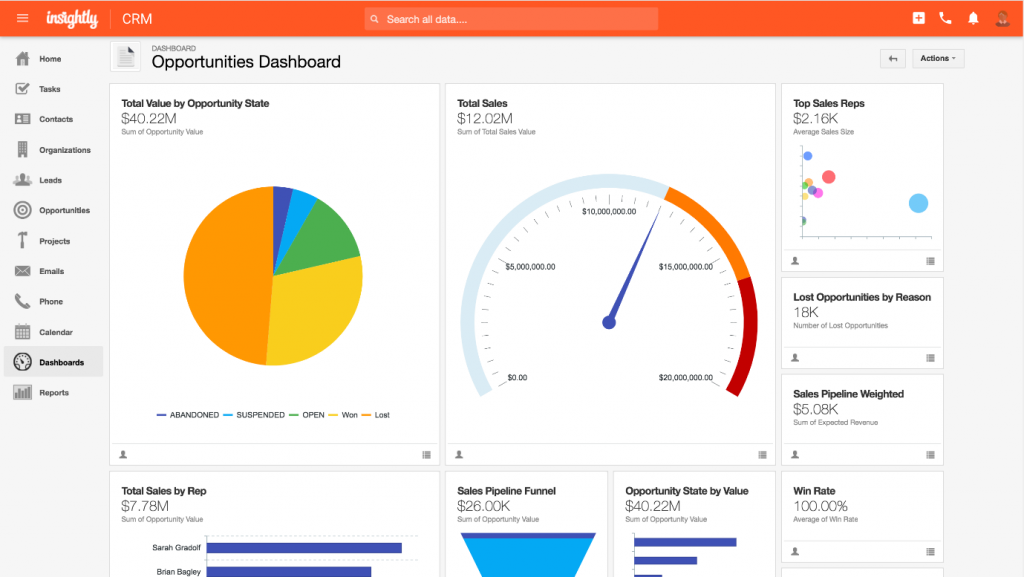 Insightly's CRM Support
Upon signing up for Insightly, you are soon contacted by email to organise a 15-minute meeting to evaluate your needs. During the onboarding process there isn't a lot of in-built support to learn the system, however, you can sign up to webinars or view numerous learning videos.
If you require any further information whilst on the trial, there is telephone support. If you need anything more than email support after the trial, you will need to pay.
The software is too limited, and the other versions are too expensive, especially to new and small business.
Summary
As the most expensive CRM I have reviewed here, it is questionable whether Insightly offers value for money. Insightly's pricing is also an area of contention with many of their customers and this issue is highlighted in many of the CRM's reviews.
5. Nutshell
Launched in 2010, Nutshell is the newest kid on the block of the top CRM systems I've reviewed here. Whilst slightly quirky, Nutshell is a good sales management option for small businesses.
What does Nutshell's CRM include?
Once you've signed up for Nutshell, you're placed on the 'Pro' plan at US$39/UK£30.50 per user per month and provides CRM and sales automation as well as opportunity management. Key CRM features include:
Telephony and phone recording features
Multiple management options for your sales pipeline
Customisable reports
One drawback is that the CRM doesn't provide any marketing functionality but does integrate with third-party applications. However, the CRM's restrictions on features have affected their user reviews.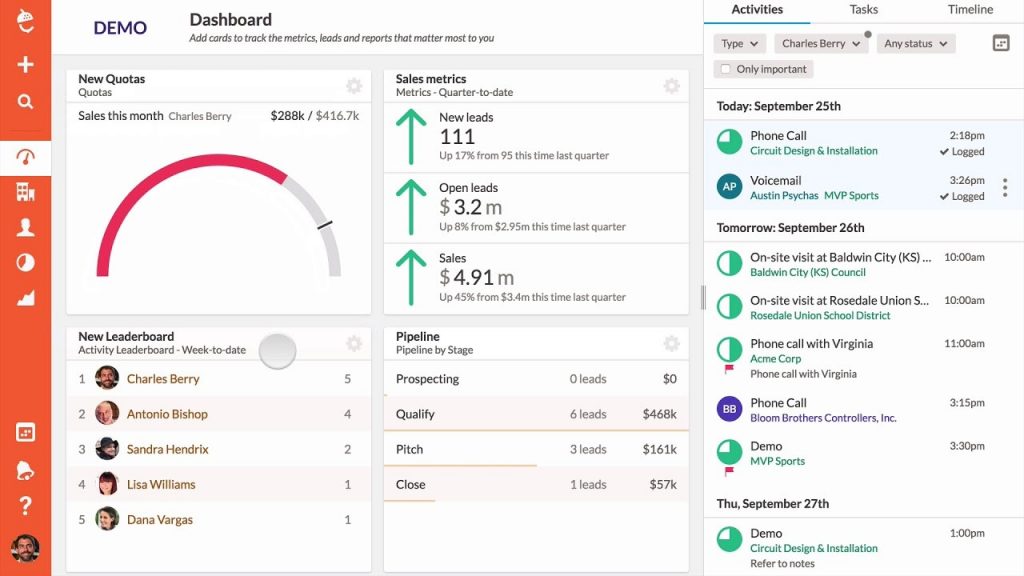 Nutshell's CRM Support
Nutshell's customer support provides guides and pre-recorded videos for helping customers and users learn their CRM system. If any extra support is needed, Nutshell encourages you to use their live chat service, or sign up for a webinar. It also provides a number for calling during their office hours.
Summary
Nutshell provides useful CRM software that helps your business speed up day to day management opportunities, however, it is missing some of the extra bells and whistles that the other CRMs provide such as marketing.
5 Top CRM's for 2022 – the verdict
All the best CRM systems on the 2022 list bring something unique to the table to resolve different management issues and help you drive your business. This does mean you'll need to trial a few to see what works best for you.