About Cooden Tax Consulting
Since their inception in 2013, Cooden Tax Consulting have been making research and development (R&D) related tax relief more accessible for the small and medium enterprises (SMEs) that operate in scientific and technology markets. Regardless of whether this is done by working directly with them or through third parties, such as accountants, Cooden helps their clients with this specialist area of tax.
Cooden's Consulting Director, Simon Bulteel, explains: "Our end customers are SMEs that are doing interesting things with science or technology. They are predominantly: engineering companies, manufacturing businesses, food and beverage companies, tech companies and software development companies. Some clients come to us directly, however, we also work to actively identify new clients who are spending in excess of £100,000 per annum on their R&D projects."
"Additionally, we work with companies who have a smaller spend, particularly if they are involved in green projects, as an example, we've helped a couple of start-up companies whose spend has been well below £10,000 because our intention was to help them grow; to become one of those companies spending £100,000 per annum. Our sales cycle is quite long, on average it can last several months, however, some clients take years."
Marketing the Consultancy
To find new business, the consultancy has a multi-tiered marketing approach with the objective of promoting the company as an expert in their market, including:
Highlighting success stories – Cooden has helped their clients to claim back nearly £17m and two clients in particular have claimed back in excess of £2m
Carrying out LinkedIn marketing – to provide accountants and other business advisers with guides to R&D Tax Relief
Working with a marketing agency to execute their campaigns
From Spreadsheet to CRM
The consultancy started out like so many companies, with a spreadsheet and a whiteboard, however, as the business started to grow and employ additional staff (including remote workers), it became far easier to rely on a cloud-based CRM system rather than a spreadsheet.
Simon expands on how Cooden Consulting used to manage their relationships with their clients: "Traditionally we would interact with our customers once a year, as it's not an industry where you have a constant flow of work."
"Prior to 2020, our go-to touchpoints were an initial phone call to arrange a face-to-face meeting, a few e-mails and follow up calls later and eventually, a final piece of work would be delivered. On the data side of things, contact data was recorded in a spreadsheet, but actual project-related work was saved to a cloud server. However, as we onboarded new staff members we found that it became more and more important to make broader use of cloud technologies."
The key selling point for us was Really Simple Systems' flexibility.
Simon Bulteel, Cooden Tax Consulting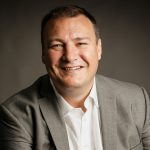 Ultimately, Simon decided to implement a CRM system as a modern and centralised solution for managing clients. "After a lot of background research on a number of systems, we eventually had a demonstration of Really Simple Systems' CRM and we really liked it, we didn't feel the need to demo anything else."
"The key selling point for us was Really Simple Systems' flexibility. You aren't constricted by what the developers think you want. You have a core CRM, but ultimately you can structure the system however you like – it is completely up to you. We initially started using it as a workflow tool to track our clients' work from initial contact. However, as time has gone on, we now use it for managing contracting, organising tasks to complete the work, and managing our relationships and payments to our referring partners."
When asked about how he found the Really Simple Systems' on-boarding process, Simon states "The tutorials are great for both refreshing your memory as well as for training staff. Additionally, on the rare occasion that we've had to contact Really Simple Systems, their customer support team have been great."
A CRM for Consultants
Since implementation, Really Simple System has enabled the consultancy to achieve greater organisational prowess. Simon goes into more detail: "The CRM has helped to prevent me from forgetting about tasks and ensures I always know where we are with everything. However, I often need to be reminded to keep updating my tasks once I've finished them!"
"Elaborating a bit more, it's given us a central point for our staff to come together and view the progress of every task that is outstanding. It also allows us to draw on previous conversations and to keep in touch more with our clients. Now that we have the Simple Marketing tool up and running, I am planning on communicating more regularly with our customers to develop deeper relationships and foster more engagement."
All in all, we really like how we're able to unite everything under one roof!
Simon Bulteel, Cooden Tax Consulting
Going forward, Simon is looking to use the CRM to unify various processes across the business. Simon expands: "I think our existing CRM system's connection with our e-mails is great as it provides us with a detailed summary of all client correspondence. I'm now looking at taking this to the next level by implementing several new integrations."
"We also have some VOIP phones in the office now, so we are looking to integrate calls into the CRM, additionally, I am looking to integrate the CRM to our Xero accounting system and am hoping to use Zapier to connect with Practice Ignition, which is where we write our contracts. All in all, we really like how we're able to unite everything under one roof so to speak!"
Making the Most of CRM
Simon finishes: "Really Simple Systems CRM is now second only to my team. The key to a successful CRM implementation really is knowing what you want to use it for. As a small business, it's so important that you clearly understand your requirements and how you are going to use your CRM system and what you want to get out of it."
"If you can't find a CRM that meets all of your needs, then the fact that Really Simple Systems is a modular system should at least give you the key functionality. What you decide to do with it after that is almost completely up to you!"
Take a 14 day trial of Really Simple Systems.
Industry: Consulting
Location: United Kingdom
Company Size: 1-10